Travel Brochure Template | Google Classroom | Digital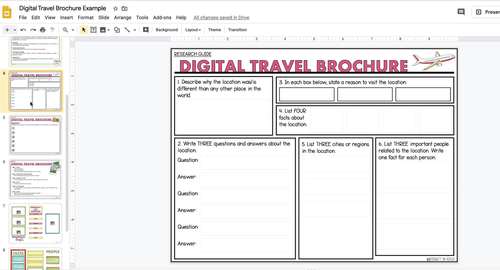 ;
PDF

Google Apps™
Includes Google Apps™
The Teacher-Author indicated this resource includes assets from Google Workspace (e.g. docs, slides, etc.).
What educators are saying
This was such a great activity to introduce my 8th graders to research and evaluating sources. It was fun and easy for them to complete on their own!
Excellent Google classroom resource. Engaging activity. Students enjoyed the activity very much. Well organized. Practical. Easy to use.
Description
Reinforce research and writing skills with an engaging travel brochure project! Designed to work with any location (historical or present-day), this travel brochure research project includes everything you need for a comprehensive standards-aligned assignment.
This resource can be completed with any device that supports Google Slides. The included PDF includes access to the link that will allow you to make your own copy of the digital resource for use in Google Classroom/Google Drive.
*Click here to see the printable PDF version of this resource.
INCLUDED WITH YOUR PURCHASE:
Travel Brochure Research Guide: A complete research guide is included to assist students in finding and recording relevant information for their travel brochures. Stress the importance of filling in each portion of the research guide. If items are skipped, students will not have the necessary information needed to complete their travel brochure.
Bibliography: A bibliography page is included to encourage students to record their sources of information as they complete their research guide.
Travel Brochure Directions: Complete directions for each panel of the travel brochure are provided.
Travel Brochure Template: The tri-fold travel brochure template includes six different panels designed to feature a geographical location.
Grading Rubric: The included rubric provides space for grading students on each panel of their brochure as well as spelling and grammar.
**Teachers may distribute this resource over the internet to their students as long as the site is password protected. In other words, you may distribute it to your own students, but you may not put it on the internet where it could be publicly found and downloaded.
RESOURCES YOU MIGHT BE INTERESTED IN:
Digital Reading Log with Sentence Starters
Digital Graphic Organizers for Narrative, Summary, Opinion, and Expository Writing
Digital Current Event Templates
Want a FREE resource each month? Click HERE to follow Literacy in Focus, and you will be sent the monthly freebie!
Thank you!
©Literacy In Focus
Report this resource to TPT
Standards
to see state-specific standards (only available in the US).
Use technology, including the Internet, to produce and publish writing and to interact and collaborate with others.
Conduct short as well as more sustained research projects based on focused questions, demonstrating understanding of the subject under investigation.
Gather relevant information from multiple print and digital sources, assess the credibility and accuracy of each source, and integrate the information while avoiding plagiarism.
Conduct short research projects to answer a question (including a self-generated question), drawing on several sources and generating additional related, focused questions that allow for multiple avenues of exploration.
Gather relevant information from multiple print and digital sources, using search terms effectively; assess the credibility and accuracy of each source; and quote or paraphrase the data and conclusions of others while avoiding plagiarism and following a standard format for citation.