Turing Put Command Coding Project Editable Resource Package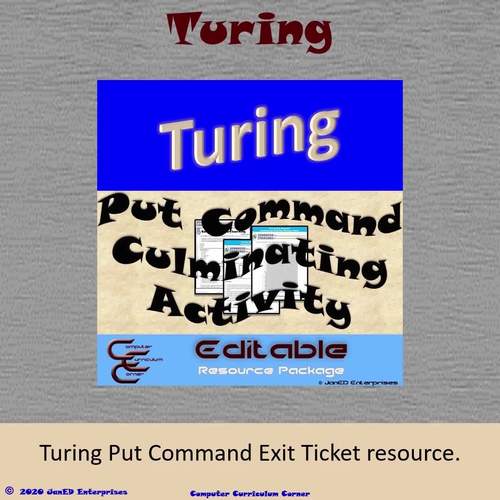 ;
Also included in
** UPDATED for Distance Learning or Remote Learning with EMBEDDED VIDEOS! **✨ Perfect for independent learners. ✨Coding is the new wave! But learning how to write your own programs takes time. You can use this in your classroom without any prior knowledge of how to code!This bundle gives you everyt

Price $23.60

Original Price $29.50

Save $5.90

✨ Perfect for independent learners. ✨Coding is not the end goal... THINKING IS! This is a complete programming course for beginner programmers. It is also ideal for students who have programming experience but never used Turing before. It not only teaches kids how to code, but also to THINK! The t

Price $280.57

Original Price $313.75

Save $33.18

** UPDATED for Distance/Online Learning with EMBEDDED VIDEOS! **Turing is a programming language that was written with high schools in mind which makes it ideal as a first language. The Turing put command outputs text in its own shell. Can they control screen output? Let's start by giving them an e

Price $5.20

Original Price $6.50

Save $1.30
Description
The biggest challenge I faced as a teacher was how do I find out whether or not a student REALLY understands something or has just copied someone else's work? Simple, you create coding projects that can't be copied!
Each project is unique because the student designs it on paper first, and students get to be creative while they demonstrate their mastery of the material. It's also great for differentiated instruction.
Start by giving them an exemplar with descriptive feedback to teach how we want them to submit code and then let the kids prove they have mastered Turing's put command by using their new coding knowledge to create a unique design.
✸ Some school boards may call a coding project an exit ticket or culminating activity. ✸
Materials have also been modified in English (UK) where necessary.
Duration: Three 75 minute periods.
This package requires NO PREP!
This package includes:
✔ A Package Description
✔ Answer Key
✔ 2 Descriptive Feedback Assessments
✔ 1 Descriptive Feedback Assessment English UK
✔ Coding Project
✔ Coding Project English UK
✔ Coding Project Planning Sheet
✔ 1 Rubric
◆ 1 Alternate
◆ 1 Alternate with a KICA* marking scheme
✔ 3 Code Exemplars
✔ 1 Code Exemplar English UK
✯ BONUS: Turing File Name Rules PowerPoint & Notes
This package also includes an EDITABLE version of the following:
✍ Coding Project
✍ Coding Project with a KICA* marking scheme
✍ 2 Rubrics
✍ 2 Rubrics with a KICA* marking scheme
⭐ Google Classroom: Convert PowerPoint Presentations to Google Slides
KICA This item has an alternate marking scheme that has been broken down into 4 categories: Knowledge, Thinking/Inquiry, Communication and Application. This aligns with the Ontario, Canada curriculum guidelines.
*** Prerequisite Knowledge ***
✔ Main Program
✔ User-Defined Procedures
✔ Source Code, Compiled Code
✔ Code Organization
✔ Programmer Comments
✔ Syntax Errors
✔ Logic Errors
✔ KISS (Keep It Simple Student)
✔ User-Friendly Program Design
✔ Arithmetic Operators
✔ BEDMAS/PEMDAS
✔ Turing put Command:
◆ string vs numeric output
◆ , (comma)
◆ .. (dot dot)
◆ :xx (spacing)
◆ controlling string output
◆ controlling numeric output
UPDATED September 2020.
What's So Special About My Coding Resources?
✯Leave Feedback!✯ Rate this resource to receive TpT CREDITS on future resources.
◆◆◆ ◆◆◆ ◆◆◆ ◆◆◆ ◆◆◆ ◆◆◆ ◆◆◆ ◆◆◆ ◆◆◆ ◆◆◆ ◆◆◆ ◆◆◆ ◆◆◆ ◆◆◆ ◆◆◆
Thank you for visiting my store. Please rate this resource. If you ever have any questions, concerns, suggestions or requests please email me at ccubed.me@gmail.com
Watch out for my computer programming courses and other free computer-related resources. Don't forget to follow me for exciting new product announcements, sales, promotions and updates!
Follow me:
◆◆◆ ◆◆◆ ◆◆◆ ◆◆◆ ◆◆◆ ◆◆◆ ◆◆◆ ◆◆◆ ◆◆◆ ◆◆◆ ◆◆◆ ◆◆◆ ◆◆◆ ◆◆◆ ◆◆◆
Created by Janice Dyke
Computer Curriculum Corner
© 2017 JanED Enterprises
All Computer Curriculum Corner materials are the property of JanED Enterprises. As such they may not be resold, shared or distributed either in paper format, online or electronically to anyone.
Purchase of the product is for limited SINGLE classroom use by the purchaser only and it may not be shared with multiple users, including but not limited to teachers of the same course or grade level. Nor is it transferable.
It is a violation for individuals, schools, school boards, or districts to redistribute, edit, sell, or post these items in any form on the Internet, network or shared drives, classroom/personal websites or to other individuals. No part of this publication may be reproduced, modified, distributed or transmitted without the express permission of the author.
Disregarding the copyright is a violation of the Digital Millennium Copyright Act and subject to legal action.
By purchasing this product you acknowledge that you have read and understood the Terms of Use.
Turing Put Command Coding Project Editable Resource Package by Janice Dyke is licensed under a Creative Commons Attribution-NonCommercial-NoDerivatives 4.0 International License.
Answer Key
Included with rubric
Report this resource to TPT