Turn Your Trash Into Treasure! Design Technology PBL {EDITABLE!}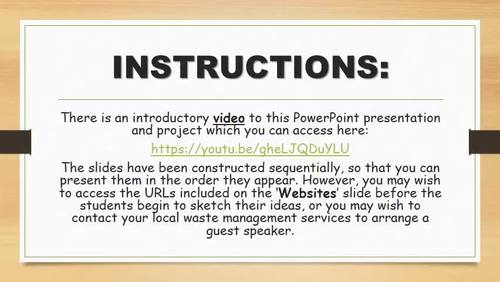 ;
What educators are saying
This is a terrific resource to include a sustainability element into a STEM project. My students absolutely loved repurposing things for new reasons. Thank you!
Great resource to get student engaged in the design technologies curriculum. My student loved these activities.
Description
This fun project is based on the following 'job description' or scenario:
"You have just been selected by the local government to design and create a marketable product from recyclable materials. The local recycling plant is overflowing with items that should be reused and they need your help to create a successful product that the community would be interested in buying. This is a very important role, and one that could make you rich overnight! Your final product should demonstrate true innovation and entrepreneurship."
The local government is counting on YOU!
This popular resource includes:
- A FREE video introducing this project. Accessible here: Miss Carlee
- A poster for the 'Success Criteria' and 'Learning Intentions'
- An EDITABLE PowerPoint presentation with 19 slides and website links
- A three page 'Design Portfolio' for students to complete
- A rubric/marking key
This project also covers the following "Values of Schooling":
"Environmental responsibility - the commitment to developing an appreciative awareness of the interdependence of all elements of the environment, including humans and human systems, encouraging a respect and concern for Australia's natural and cultural heritage and for forms of resource use that are regenerative and sustainable." - School Curriculum and Standards Authority (Western Australia)
Head on over to my Instagram account @_miss_carlee_ and follow me to see regular classroom inspo, resources and teacher wellbeing!
I am also on Facebook and post my new products and videos there too!
A QUICK TIP FOR YOU...
Did you know that you can earn TpT credits to use for future purchases? Go to your 'My Purchases' page and next to each product that you've already purchased, you will notice a 'Provide Feedback' button. Click on it and take a minute to provide some positive feedback! Every time you do this, TpT rewards you with credits, which you can use as a deduction toward future purchases!
I highly value your feedback and comments. It not only warms my heart, but it helps me to determine which resources are most valuable for teachers. I always look forward to creating new products and supporting you in the classroom!
Report this resource to TPT