Turn of the Century Unit: Inventors, Ellis Island, and Labor Unions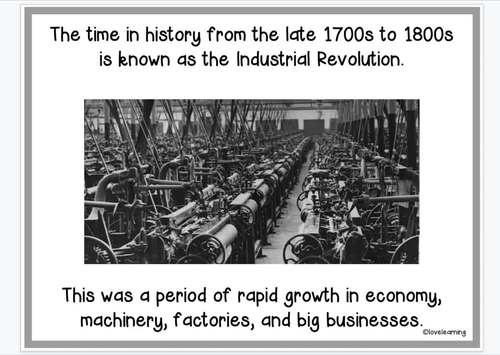 ;
Zip

Google Apps™
Includes Google Apps™
The Teacher-Author indicated this resource includes assets from Google Workspace (e.g. docs, slides, etc.).
What educators are saying
I love all her resources! The outline, graphics and information are straight to the point but put in student friendly terms!
All of your resources are so helpful to strengthen student understanding of topics. Thank you for your dedication and hard work!
Also included in
This history bundle is the perfect addition to any social studies classroom! It includes three different units: Turn of the Century, American Expansionism, and World War 1. The PowerPoint lessons include pictures, videos and website links to engage even the most reluctant learners. This is the SECON

Price $28.00

Original Price $32.00

Save $4.00
Description
This Turn of the Century Unit includes everything you will need to teach your students about famous inventors like Alexander Graham Bell, Thomas Edison, George Washington Carver, and the Wright Brothers. It also includes information about the Ellis Island immigrant experience, Labor Unions, and Big Businesses of the 1900s.
With lessons on famous inventors like Thomas Edison and Alexander Graham Bell, your students will learn about the inventions that transformed America. They'll also explore the experiences of immigrants who came to America through Ellis Island, learning about the challenges they faced and the contributions they made to society.
The resources in this bundle come in both printable and digital versions, which is perfect for distance learning through Google Classroom™!
Alexander Graham Bell
Thomas Edison
George Washington Carver
The Wright Brothers
Reasons immigrants came to America
Steerage conditions
Ellis Island building/Statue of Liberty
Baggage Room
Stairs of Separation
The Great Hall
Medical Exam
Legal Exam
Deportation
Angel Island
Entering America
Tenements
Jobs/Life in America
Ellis Island Today
Angel Island Today
Life in factories and sweatshops in the early 1900's
The Triangle Shirtwaist Co. Fire
Child Labor
Labor Unions
The Homestead Strike
Newsies
Andrew Carnegie's life and business
John D. Rockefeller
William Randolph Hearst
Madame C.J. Walker
REVIEWS FROM OTHER TEACHERS:
⭐️⭐️⭐️⭐️⭐️ Pamela J. said, "The interactive tour was so great! My kids were 100% engaged with this lesson."
⭐️⭐️⭐️⭐️⭐️ Kristi S. said, "I recommend purchasing all of the bundles by Love Learning! They are very thorough, age appropriate, and engaging for the students! Priceless conversations come from these interactive presentations!"
⭐️⭐️⭐️⭐️⭐️ Gannon's Goodies said, "I love this resource! I have limited time for social studies, and this is a great way of making that time count!"
*****************************************************************************
Take a look at my other history lessons:
• Civil War and Reconstruction Unit
• World War I {Lesson and Study Guide}
• The Roaring Twenties and the Great Depression Unit
Save with Bundles: History Bundle 1, History Bundle 2, History Bundle 3, History Bundle 4
Teaching Duration
2 Weeks
Report this resource to TPT