Two Step Word Problems - Addition and Subtraction Math Task Cards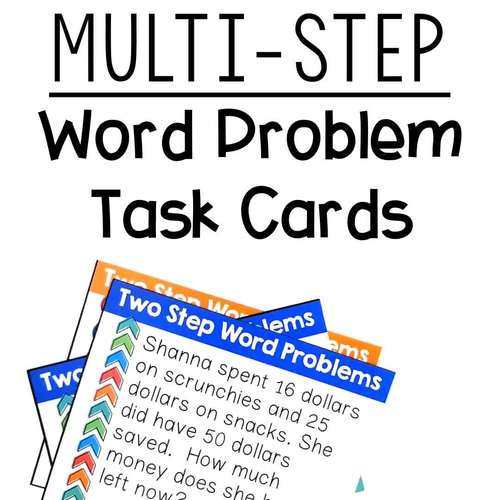 ;
Zip

Google Apps™
27 printable pages + 24 Google Slides
Includes Google Apps™
The Teacher-Author indicated this resource includes assets from Google Workspace (e.g. docs, slides, etc.).
What educators are saying
Two step word problems were a difficult task for my third graders. It helped having an additional resource such as the task cards to reinforce this skill.
This resource was used with lower level students and helping them work through word problems. It was an excellent resource to break down each problem and talk through what's it is asking.
Also included in
These math task card activities are great for Distance Learning with Google Classroom! Students will review graphing, multiplication, division, word problems, elapsed time, and more! The best part is that clear directions for teachers are included! Your students will love these fun and engaging m

Price $16.25

Original Price $23.00

Save $6.75
Description
Are you looking for an easy way for your students to practice two step word problems? These task cards are designed to help students visualize multi step word problems with real world examples. Google Classroom version is provided! These math task cards are great for differentiating math instruction and will provide hands-on, engaging activities for understanding addition and subtraction concepts!
A recording sheet and answer key is provided. The answer key provides the two suggested equations for solving each story problem.
24 printable task cards
1 printable recording sheet
1 printable answer key
24 Google Slides Task Cards
4 pages of Google Slides Directions
12 pages of instructions included for using this digital resource in the top educational apps (Google Drive, Microsoft OneDrive, Schoology, Notability, Nearpod, Canvas, Edmodo, Blackboard, Pic Collage, Padlet, Evernote and Seesaw).
RTI Math Group
Special education students
Math centers
Help students quiz each other before a test
Parent volunteers helping struggling students
Engage early finishers
Challenge the whole class to complete the card quickly
☀️
________________________________________________
TEACHERS LIKE YOU SAID…
⭐️⭐️⭐️⭐️⭐️Emily C. says "My students were really struggling with two-step word problems. This was an easy way for us to practice the skill more and didn't require much prep from me, which is always helpful!"
⭐️⭐️⭐️⭐️⭐️Christina Marie says "I hate coming up with word problems to help my students practice reading and analyzing them so this was perfect! Especially since two step word problems are so hard for them! Thank you!"
⭐️⭐️⭐️⭐️⭐️Isabella M. says "This was a very easy way to work on two step word problems. Having them as task cards was helpful and my student liked only seeing one problem at a time. They were well organized and I liked the variety of word problem situations. This was a great resource, highly recommend."
⭐️⭐️⭐️⭐️⭐️Nicole B. says "My students enjoyed this resource. I was able to differentiate during small group math time with this resource. I had my "high" students working independently on each problem, and then checking in with a partner to check their work. I had my "on level" students working in groups of three on each problem. Then my "low" students were with me working in a small group to complete the problems. It worked out very well for all levels of students."
⭐️⭐️⭐️⭐️⭐️Lauren L. says "Great resource! I used it with my small group to differentiate during math time."
________________________________________________
⭐Follow me for sales, freebies and new resources! All new products are 50% off for the first 48 hours!
________________________________________________
⭐More MATH Resources:
Total Pages
27 printable pages + 24 Google Slides
Report this resource to TPT
Standards
to see state-specific standards (only available in the US).
Fluently add and subtract within 100 using strategies based on place value, properties of operations, and/or the relationship between addition and subtraction.
Use addition and subtraction within 100 to solve one- and two-step word problems involving situations of adding to, taking from, putting together, taking apart, and comparing, with unknowns in all positions, e.g., by using drawings and equations with a symbol for the unknown number to represent the problem.
Solve two-step word problems using the four operations. Represent these problems using equations with a letter standing for the unknown quantity. Assess the reasonableness of answers using mental computation and estimation strategies including rounding.
Make sense of problems and persevere in solving them. Mathematically proficient students start by explaining to themselves the meaning of a problem and looking for entry points to its solution. They analyze givens, constraints, relationships, and goals. They make conjectures about the form and meaning of the solution and plan a solution pathway rather than simply jumping into a solution attempt. They consider analogous problems, and try special cases and simpler forms of the original problem in order to gain insight into its solution. They monitor and evaluate their progress and change course if necessary. Older students might, depending on the context of the problem, transform algebraic expressions or change the viewing window on their graphing calculator to get the information they need. Mathematically proficient students can explain correspondences between equations, verbal descriptions, tables, and graphs or draw diagrams of important features and relationships, graph data, and search for regularity or trends. Younger students might rely on using concrete objects or pictures to help conceptualize and solve a problem. Mathematically proficient students check their answers to problems using a different method, and they continually ask themselves, "Does this make sense?" They can understand the approaches of others to solving complex problems and identify correspondences between different approaches.