Types of Character Conflict in Literature Slides & Task Cards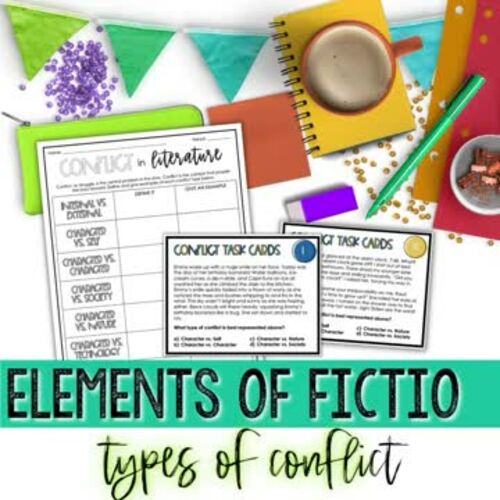 ;
Zip

Google Apps™
Includes Google Apps™
The Teacher-Author indicated this resource includes assets from Google Workspace (e.g. docs, slides, etc.).
What educators are saying
Getting to see my kids up and walking around the classroom was the highlight of my week! Thank you so much for this engaging activity!
I used this to create a review game for students. The scenarios were helpful for students to apply what they learned about identifying conflict within a story.
Also included in
Preparing your fiction unit has never been easier than with these elements of fiction mini-lessons. These lessons and activities on characters, setting, conflict, plot, theme, and point of view come with editable presentations and engaging and interactive activities. Teaching the story elements is a

Price $17.98

Original Price $26.21

Save $8.23

If coming up with thorough & engaging units for the four major genres of literature has ever made you feel frustrated, overwhelmed, or even unsure, I made this bundle of ELA mini units for you. This HUGE BUNDLE is your complete kit for teaching the elements of literature this year!CHECK OUT THE

Price $74.99

Original Price $112.62

Save $37.63
Description
If your students are ready to dive into the various types of character conflict in literature, do yourself a favor and check out this done-for-you lesson! You'll receive an editable presentation for teaching, a student notetaker, and a kinesthetic task card activity. This all-in-one instructional resource will save you VALUABLE planning time when teaching about the types of conflict!
✨ Check out the PREVIEW for more information on this product!
What types of literary conflict are taught in this lesson?
Internal vs. External Conflict
Character vs. Self
Character vs. Character
Character vs. Nature
Character vs. Society
Character vs. Technology
Character vs. Supernatural
However, only the first four types of conflict are reviewed in the task cards.
How can I use task cards?
✏️ You can use these task cards the traditional way by hanging them up around your room and having students travel around, reading and recording their answers. 
✏️ You can use them for a conflict sort as a station or group activity. Students read and sort the cards into conflict categories. 
✏️ You can use them Quiz-Quiz Trade style.
✏️ You can use them as an exit ticket where each student gets one card and has to identify the conflict and explain their answer. 
The possibilities are endless!
___________________________________
TEACHERS LIKE YOU SAID…
⭐️⭐️⭐️⭐️⭐️ Amanda said, "Very satisfied with this resource to do mini lesson and activity about conflict. Placed cards around the room for students to read and discuss."
⭐️⭐️⭐️⭐️⭐️ Magda said, "Getting to see my kids up and walking around the classroom was the highlight of my week! Thank you so much for this engaging activity!"
⭐️⭐️⭐️⭐️⭐️ Ericka said, "I really liked this resource as an introduction and then independent learning center for my students who are working on identifying different types of conflict."
___________________________________
Supports Common Core Standards (CCSS):
RL.5.3, RL.5.10
RL.6.3, RL.6.10
RL.7.3, RL.7.6, RL.7.10
___________________________________
You might also like these other Elements of Fiction mini-lessons:
OR, ⭐️ Bundle & Save for a Discount ⭐️
Purchase the to get this activity plus the mini-lessons listed above! 
Have a question?
Please check out the Q & A section or email me at info@heynatayle.com. I'll get back to you within 24 hours.
Don't forget to leave feedback! I love to hear what my buyers say, how the product worked for them, and any feedback I can use to improve my product! (It also earns you points towards future TPT Purchases)
✔️ Follow me to be notified when I've posted new products. New products are always 50% off for the first 48 hours!
✔️ Subscribe to my NEWSLETTER for tips, ideas, and activities that make teaching middle school ELA feel engaging and purposeful.
Thanks so much,
Natayle Brown
___________________________________
Copyright © Hey Natayle.
Permission to copy for single classroom use only.
Please purchase additional licenses if you intend to share this product.
Teaching Duration
45 minutes
Report this resource to TPT
Standards
to see state-specific standards (only available in the US).
Describe how a particular story's or drama's plot unfolds in a series of episodes as well as how the characters respond or change as the plot moves toward a resolution.
By the end of the year, read and comprehend literature, including stories, dramas, and poems, in the grades 6–8 text complexity band proficiently, with scaffolding as needed at the high end of the range.