U.S. Document Analysis BUNDLE - Legislative Set of Acts, Amendments, Resolutions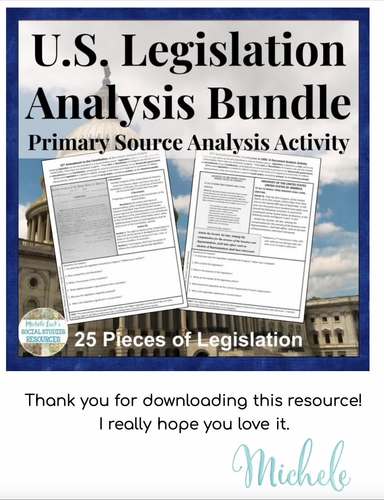 ;
Easel Activity Included
This resource includes a ready-to-use interactive activity students can complete on any device. 
Easel by TPT is free to use!
Learn more
.
Also included in
Custom Bundle of Geography, US, WorldGrades 6, 7, 8

Price $596.20

Original Price $851.71

Save $255.51
Description
This 50 page handout bundle includes 25 different document analysis student sheets and keys. Each provides the original legislation as well as the document image for students to analyze with guiding questions for a better understanding of American legislation. Includes a significance wrap-up question in which students utilize all of the information to explain the significance of the legislation.
Answer Key is Provided for Each!
All images and other primary sources collected from Library of Congress, National Archives or public domain.
Document image is not clear for text reading as all text is in reading block, but is provided for students to see actual document and to evaluate larger content such as dates and format.
See sample of 5 documents for actual product.
Documents are also sold separately. And you can see the individual document listings for more details on each document included in this bundle.
25 Document Topics:
Federal Judiciary Act
1st Amendment
2nd Amendment
Louisiana Purchase
13th - 15th Amendments
Dawes Act
Hawaii Annexation
Platt Amendment
Meat Inspection Act
Pure Food & Drug Act
18th - 19th Amendments
TVA
Social Security Act
Lend Lease Act
WWII Declaration
Executive Order 9066
United Nations
Veteran's Day
Civil Rights Act
Gulf of Tonkin Resolution
Voting Rights Act
27th Amendment
Great for use as a homework extension activity, for NTI days, for school closings due to weather, flu or other illness, and as a homebound student resource.
Related Resources:
US Legislative Document Analysis Bundle - Ideal supplement to cover the political and legislative changes through American history.
Supreme Court Cases Analysis Bundle - This is a great set of cases to help students investigate the types of cases that make it to the Supreme Court and the impact they have on American citizen's daily lives.
American Speeches Analysis Bundle - Classic American Speeches help students analyze the impact of powerful and powerless Americans as they try to bring change to the country through the power of the word!
World History Primary Source Analysis Bundle - Review key topics in World History as students practice the skill of analysis with this ready-to-print bundle.
U.S. History Primary Source Analysis Bundle - Review U.S. History from settlement to modern day with these primary source analysis sets focused on decades or eras in American History.

Buying from Michele Luck's Social Studies
If you like this resource, please leave feedback. If you have any questions or concerns, please email me at michele@micheleluckssocialstudies.com to let me know!
You may also want to browse through my TpT Store for other rigorous and collaborative Social Studies resources that can make your in-class or digital and distance learning classroom more interactive for all students!
Thank you for downloading. Happy Teaching!
Report this resource to TPT
Standards
to see state-specific standards (only available in the US).
Cite specific textual evidence to support analysis of primary and secondary sources.
Determine the central ideas or information of a primary or secondary source; provide an accurate summary of the source distinct from prior knowledge or opinions.
Identify key steps in a text's description of a process related to history/social studies (e.g., how a bill becomes law, how interest rates are raised or lowered).
Determine the meaning of words and phrases as they are used in a text, including vocabulary specific to domains related to history/social studies.
Integrate visual information (e.g., in charts, graphs, photographs, videos, or maps) with other information in print and digital texts.