US Geography Plan a Road Trip Project Based Learning - PBL - PDF Version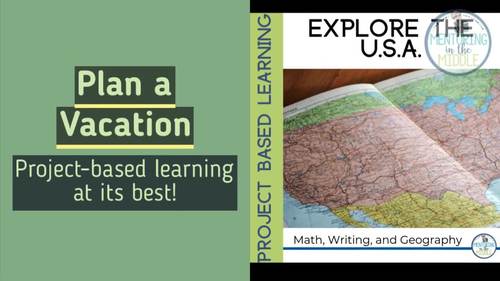 ;
What educators are saying
Saying my students loved this is an understatement. They wanted to keep working and working. Such a fantastic resouce!
Also included in
The best of blended learning uses math, writing, and geography. Provided for you in PDF and digital versions.  Students love this project where they budget and plan a two-week vacation from your school to their destination and back, including food, lodging, gas, and attractions. Links to restaurant

Price $8.80

Original Price $13.75

Save $4.95

Your 4th, 5th, 6th, and 7th grade students will enjoy reviewing and learning from the geography of the United States with this all-encompassing Social Studies bundle. Use this as a preview to see what students know, as a review to see what they've learned, or as an active learning and planning unit

Price $14.56

Original Price $22.75

Save $8.19
Description
The best of project-based learning, your students plan a road trip using math, writing, and their knowledge of U.S. geography!  Students love this Social Studies project where they budget and plan a two-week vacation including food, lodging, gas, and attractions.
Critical thinking skills and creativity abound as students map out their route across the USA and decide where and how they want to spend their money.
US Geography Plan a Road Trip Project Based Learning | PBL includes:
Essential Questions
Objectives and Common Core Standards
Teacher Directions with pictures 
Student Directions
Trip brainstorming Pages
Maps
What Does it Cost? planning pages
Culminating projects with graphic organizers
Answer keys
Rubrics to use as benchmarks or for feedback
Optional activities which can be used for differentiation:
★ Write a newspaper column
★ Create a brochure for a site
★ Write a review of a site you didn't visit and why
★ Create a 3D representation of a part of the country
★ Compare and Contrast sites visited
You might also like these other Project Based Learning products
Peeps Project Based Learning and STEM Activities
Design a Restaurant Project Based Learning
Create a Country Project Based Learning
CUSTOMER TIPS:
1. Earn TpT credits to use for future purchases! After you log in, go to the "My Purchases" page and download this product. You'll see a "Provide feedback" button. Click on that, rate the product and leave a comment. It's that simple!
2. Like what you see? Click on the star next to my store logo to follow me!
Teaching Duration
3 Weeks
Report this resource to TPT
Standards
to see state-specific standards (only available in the US).
Multiply or divide to solve word problems involving multiplicative comparison, e.g., by using drawings and equations with a symbol for the unknown number to represent the problem, distinguishing multiplicative comparison from additive comparison.
Write informative/explanatory texts to examine and convey complex ideas and information clearly and accurately through the effective selection, organization, and analysis of content.
Use technology, including the Internet, to produce and publish writing and to interact and collaborate with others.
Cite specific textual evidence to support analysis of primary and secondary sources.
Integrate visual information (e.g., in charts, graphs, photographs, videos, or maps) with other information in print and digital texts.