US HISTORY STAAR REVIEW LAP BOOK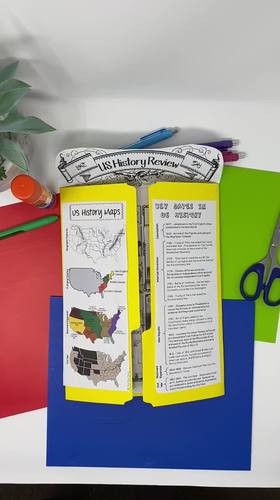 ;
What educators are saying
My students love engaging activities such as these and get so much more out of the lesson when they are challenged. It allows them to make connections with their learning styles.
Also included in
My US History resource bundle has lesson plans and activities for the entire year – from Exploration and Colonization to activities for the Civil War and Reconstruction. ✨Save money when you purchase the bundle now!✨ **Please note the size of this bundle - I cannot include everything, so once you p

Price $650.00

Original Price $1040.78

Save $390.78

All the games you need to review for an ENTIRE YEAR! This bundle of games includes content from Exploration through Reconstruction. Do more than a study guide and watch your US History scores soar! I have also included digital options for review games. Make your review time meaningful and ACTIVE! P

Price $299.00

Original Price $339.75

Save $40.75

Lap books engage students with cartoon images and short summaries - But teachers love lap books because they increase student participation, organization and content knowledge! The lap books in this bundle are great for summarizing information from an entire unit. They include visual summaries for

Price $39.99

Original Price $46.46

Save $6.47

These two resources are a perfect way to start and end your US History STAAR Review! Begin your review unit by creating a lap book with the key content of ALL OF US HISTORY! Use the lap book through out the week to review your students. At the end of your unit, create an ESCAPE ROOM! Reward and cha

Price $15.99

Original Price $19.97

Save $3.98
Description
Create your own study guide with a US History Review Lap Book. No more boring worksheets! The end of the year assessment can be very challenging for your students – there is so much information to review and remember. Engage your students with a US History Review Lap Book.
A lap book is created with a file folder, paper and the US Review Lap Book templates. This lap book will help your students study for the end of the year assessment with US History Expansion Maps, Important Quotes, Important Dates, Important People and Important Ideas – All included! This is not just a template! Your students will receive the content pieces they need to study for their exam! (Don't have time for brads? Students can staple on the flaps just as easily!)
With this lesson, you will receive,
-a PowerPoint Presentation that takes your students step-by-step through the creation of the lap book,
-A timeline of US History with key dates in bold print,
-Important Maps from US History – give your students references for turning points in history,
-Important Facts – these are cards with the key facts from US History (Colonization – Reconstruction) for your students to review,
-Important Documents – the documents that formed our country,
-Bill of Rights – the first 10 Amendments, and
-The Principles of Government!
***Please download the preview to see what the lap book will look like!
Updated - your resource will include both versions!
FEEDBACK FROM HAPPY TEACHERS:
LOVE THIS! Can't wait to start using it for review! I appreciate that there is a powerpoint included so students can follow directions on how to make the actual lapbook. #StellarReview
And thank you to Ms. Neely who has shared her video of how to construct the lap book with her kids. Go to https://www.youtube.com/watch?v=9Ils8j2FgCo&t=1268s
********************************************************************
Do you like this style of teaching? Check out these other activities for US History!
********************************************************************
Customer Tips:
How to get TPT credit to use on future purchases:
• Please go to your My Purchases page (you may need to login). Beside each purchase you'll see a Provide Feedback button. Simply click it and you will be taken to a page where you can give a quick rating and leave a short comment for the product. Each time you give feedback, TPT gives you feedback credits that you use to lower the cost of your future purchases. I value your feedback greatly as it helps me determine which products are most valuable for your classroom so I can create more for you. ☺
Be the first to know about my new discounts, freebies and product launches:
• Look for the green star next to my store logo and click it to become a follower. You will now receive email updates about this store. ☺
© Social Studies Success, LLC. This purchase is for you and your classroom. Duplication for an entire school, an entire school system, or for commercial purposes is strictly forbidden. Please have other teachers purchase their own copy. If you are a school or district interested in purchasing several licenses, please contact me for a district-wide quote. Do not share this document with Amazon Inspire.
Please review all product descriptions and previews. If you have a question, contact me before you purchase at SocialStudiesSuccess1@gmail.com. As this is a digital product, all sales are final.
Teaching Duration
2 Weeks
Report this resource to TPT