U.S. Historical Figures Word Wall, Profiles & Activity Pages with Google Link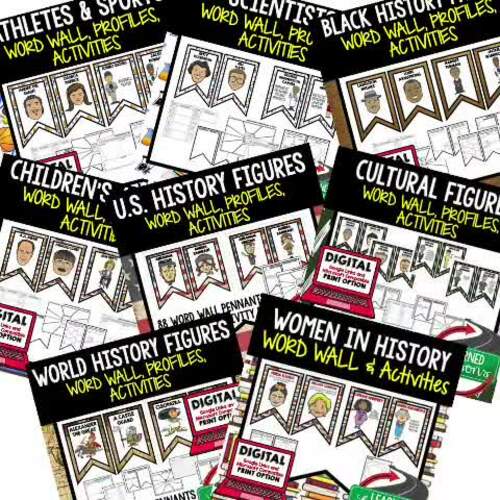 ;
PDF

Google Apps™
Includes Google Apps™
The Teacher-Author indicated this resource includes assets from Google Workspace (e.g. docs, slides, etc.).
Description
U.S. Historical Figures Word Wall, Profiles and Activity Pages (American History), Digital Learning & Print
This set will take you through the entire year with profile and biography activities.
Presidents Day Profiles and Biographies
Black History Month Profiles and Biographies
Women History Month Profiles and Biographies
Hispanic History Month Profiles and Biographies
History Profiles and Biographies
English Profiles and Biographies
CLASSROOM DECORATION
INTERACTIVE NOTEBOOK ENTRIES
PROJECTS
HISTORICAL RESEARCH
PROFILES
BIOGRAPHIES
Includes 88 Word Wal pennants of famous figures from U.S. History. These word walls are fun and are great for all ages of students (even high schoolers will enjoy them). The pennants will make excellent classroom decorations, bulletin board displays, or HISTORY program displays. These is also a research table, and 142 activity pages for students to investigate each figure. Enjoy and please leave feedback if you get a chance. Also part of American History Part 1 (Colonialism to Reconstruction) MEGA BUNDLE AND PART OF YEAR LONG WORD WALL BUNDLE!
Included
142 Pages of Resources
86 Word Wall Pennants (1 Set of just heads and one set with full body)
2 Black Pennants with background for decorating your room.
5 Pages of U.S. Historical Figures Profile Charts and notes sections
40 Profile Pennants for students to research various figures
40 pages of research graphics with pictures
1 Historical figure compare and contrast sheet
9 pages of research activities to use with any figure
Digital Link to Google Slide Activity Pages --NEW
Amelia Earhart Profile
Amelia Earhart Biography
Babe Ruth Profile
Babe Ruth Biography
Barack Obama Profile
Barack Obama Biography
Benjamin Franklin Profile
Benjamin Franklin Biography
Cesar Chavez Profile Profile
Cesar Chavez Biography
Eleanor Roosevelt Profile
Eleanor Roosevelt Biography
Franklin D. Roosevelt Profile
Franklin D. Roosevelt Biography
Fred Korematsu Profile
Fred Korematsu Biography
Frederick Douglass Profile
Frederick Douglass Biography
George Washington Profile
George Washington Biography
Harriet Tubman Profile
Harriet Tubman Biography
Helen Keller Profile
Helen Keller Biography
Jackie Robinson Profile
Jackie Robinson Biography
John F. Kennedy Profile
John F. Kennedy Biography
Johnny Appleseed Profile
Johnny Appleseed Biography
Martin Luther King, Jr. Profile
Martin Luther King, Jr. Biography
Neil Armstrong Profile
Neil Armstrong Biography
Rosa Parks Profile
Rosa Parks Biography
Ruby Bridges Profile
Ruby Bridges Biography
Sacagawea Profile
Sacagawea Biography
Sally Ride Profile
Sally Ride Biography
Squanto Profile
Squanto Biography
Susan B. Anthony Profile
Susan B. Anthony Biography
Thomas Jefferson Profile
Thomas Jefferson Biography
Thurgood Marshall Profile
Thurgood Marshall Biography
Union Soldier Profile
Union Soldier Biography
Confederate Soldier Profile
Confederate Soldier Biography
Johnny Appleseed Profile
Johnny Appleseed Biography
American Cowboy Profile
American Cowboy Biography
Davy Crocket Profile
Davy Crocket Biography
Depression Era American Profile
Depression Era American Biography
Native American Profile
Biography
Franklin Roosevelt Profile
Franklin Roosevelt Biography
Betsy Ross Profile
Betsy Ross Biography
Abraham Lincoln Profile
Abraham Lincoln Biography
Paul Revere Profile
Paul Revere Biography
Pilgrim Profile
Pilgrim Biography
Pony Express Profile
Pony Express Biography
Prospector Profile
Prospector Biography
Town Crier Profile
Town Crier Biography
Uncle Sam Profile
Uncle Sam Biography
George Washington Profile
George Washington Biography
INCLUDED IN American History MEGA Bundle
THESE ARE GREAT FOR
WORD WALLS
PROFILES
BIOGRAPHY RESEARCH
POSTERS
AMERICAN HISTORY
FOLLOW TO GET UPDATES WHEN NEW RESOURCES ARE ADDED
Links to all MEGA BUNDLES
Other Resources to Check Out:
CIVICS PAGE
US HISTORY PAGE
GENERAL RESOURCE PAGE
ELA & WRITING PAGE
PHYSICAL SCIENCE PAGE
PHYSICAL SCIENCE RESOURCE PAGE
EARTH SCIENCE PAGE
LIFE SCIENCE PAGE
WORLD HISTORY PAGE
GEOGRAPHY PAGE
LOUISIANA HISTORY PAGE
CLIPART RESOURCE PAGE
learnedlessonstpt@gmail.com
Thank you for your support! --Learned Lessons
Learned Lessons Teaching Material
learnedlessonstpt@gmail.com
#TPTDIGITAL #TPTTECH Google, 1:1, Digital
Report this resource to TPT