US History Gilded Age through Cold War Curriculum Bundle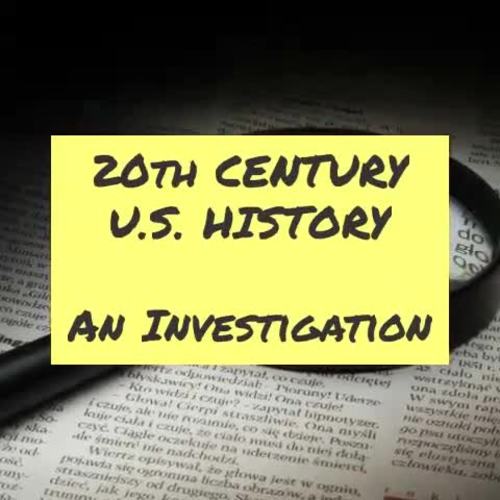 ;
Includes Google Apps™
This bundle contains one or more resources with Google apps (e.g. docs, slides, etc.).
Easel Activities Included
Some resources in this bundle include ready-to-use interactive activities that students can complete on any device. 
Easel by TPT is free to use!
Learn more
.
Products in this Bundle (60)
showing 1-5 of 60 products
Description
Be ready to teach 20th Century US History with this growing bundle of interactive notebook foldables, gallery walks, inquiry activities, station activities, projects, digital activities and more. Students will be investigative reporters when they create World War I newspapers, meet the captains of industry of the Progressive Era and Gilded Age in a gallery walk, role play civil rights movement figures, build an illustrated timeline of World War II and more.
Save 30% on the resources currently in this bundle PLUS all future 20th century resources at no extra cost including all the new digital classroom resources. The price of this bundle will increase as more products are added. Resources for the World War I, the Harlem Renaissance, the Cold war and the 1960s are currently in progress.
Topics currently include:
- The Suffragist Movement in the modern era
- The Progressive Era and Gilded Age
-The Roaring 20s and the Harlem Renaissance
- World War I and World War II
- The Cold War and post-World War II Era
(Please download product preview for a full list of products currently available within bundle.)
How it works:
- You get every U.S. History twentieth century related product in the store.
- Every time I add a new U.S. History twentieth century related product, it is added to the bundle.
- I recommend following the store so that you know when a new product is added.
- As new products are added, the bundle price may increase. You do not pay additionally for new products included in the bundle.
NEW! and noteworthy
- World War II Graffiti activity
-World War 1 By the Numbers Data Analysis and Social Scientist Project
- Roaring 20s Inventions of the 1920s Advertisement Project for U.S. History
- Progressive Era Illustrated Timeline
- Women's History Month: 8 stories and doodle activity
- Civil Rights Movement Gallery Walk of Images and Primary Sources
- Kennedy vs Nixon Debate Rap Project
When I designed this curriculum, I did want:
Activities that are student-centered and reach a wide variety of learners
Resources that are designed for reinforcement and comprehension of concepts. 
Engaging projects and resources for active learning.
Resources that are relevant to students
Materials  that offer adaptability so they can work in a wide variety of classrooms. 
Materials that are aesthetically pleasing.
When I designed this curriculum, I did not want:
Language that blocked students from accessing information
Items that lacked visuals.
Materials that did not bring home the message. 
Materials that were not relevant or engaging. 
Who is this curriculum for?
New Teachers who have limited resources.
Veteran teachers who need new ideas for their curriculum
Any teacher assigned to teach US History who doesn't want to start from scratch
Any teacher who wants to actively engage students in the study of US History.
Students!
What customers say about products included in this bundle:
- "My life made easier! Thank you!!!" - World War II Interactive Notebook Timeline"Very useful! A great addition to my learning centers. " - World War II Activities
- "This a great resource to use. Easily modified for my exceptional learners!" - Progressive Era Teacher Resource Bundle
- "Awesome and inclusive resource. requires very little prep. my students loved it!" - Progressive Era and Gilded Age: Research and Role Play project
I recommend downloading the preview for a full list of current products.
This purchase is for one teacher only. This resource is not to be shared with colleagues or used by an entire grade level, school, or district without purchasing the proper number of licenses. These products may not be posted on the internet. Posting on the internet and sharing with colleagues is a direct violation of copyright laws. If you are interested in a site license, please contact me for a quote. This resource may not be uploaded to the internet in any form to be shared beyond your class. These resources are for use by your students only.
Answer Key
Included with rubric
Report this resource to TPT