US History Middle School Lesson Plan: King Philip's War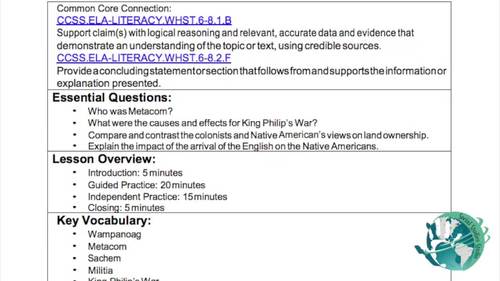 ;
Description
60 Minute Lesson Plan for Middle School Students.
Key questions answered:
• Who was Metacom?
• What were the causes and effects for King Philip's War?
• Compare and contrast the colonists and Native American's views on land ownership.
• Explain the impact of the arrival of the English on the Native Americans.
Lesson Overview:
• Introduction: 5 minutes
• Guided Practice: 20 minutes
• Independent Practice: 15 minutes
• Closing: 5 minutes
Key Vocab:
• Wampanoag
• Metacom
• Sachem
• Militia
• King Philip's War
Readings included!
Students will also take notes from the handout in the form of Cornell Notes or an outline form and record important information in their journals. Teacher can display parts of the notes on the board and students should fill in the missing parts of the notes as they are reading.
Like us on Facebook by clicking the link below
Report this resource to TPT