US History Teacher/Sub Activity Events: American Revolution War Part. 1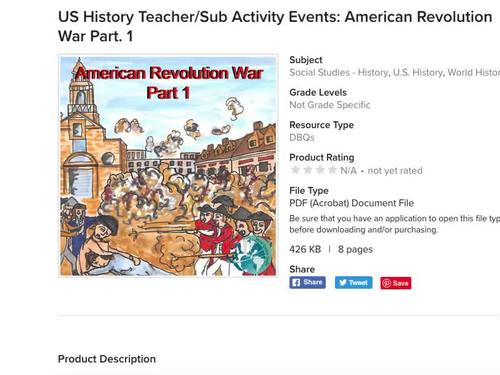 ;
Description
DBQ Events: The American Revolution War Pt.1
This 45-60 minute lesson plan is appropriate for teachers or to use as emergency sub plans. Brief short readings are included in the packet for students to analyze and complete a final activity about the American Revolutionary War. Everything is included for this lesson.
Students will be required to read and analyze each document. They will show their understanding by answering a series of questions related to the documents that they read.
Historical Context: Was a time in which the British Colonists in America grew tired of the Great Britain rule. As a result of high tensions, the British Colonists rebelled against Great Britain. This resulted in several battles being fought and eventually America gaining its freedom. This war lasted from 1775 until 1783.
In this lesson, the students will read three documents that will help build their background knowledge about the events during the American Revolution war. They will then use their critical thinking skills to answer various open-ended questions that will require them to apply information from these documents to support their answer responses.
At the end of the lesson, the students are expected to answer the following:
● Describe the American Revolution.
● Was America in the right or wrong for rebelling against Great Britain?
● Explain your stance on rebelling. Are you for or against it?
● Which do you think is more powerful to make societal changes: peaceful protesting or rebelling?
Like us on Facebook by clicking the link below
Report this resource to TPT