Ultimate Guided Reading Resource for Special Education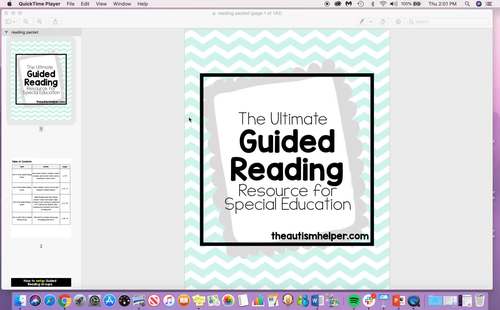 ;
What educators are saying
I like this resource, I'm still learning how to use it but it has a lot of great resources within it and will hopefully help get a guided reading group going in my room
Very helpful. This resource helped me get started with guided reading for working with special education students especial students on the spectrum. Thank you!
Description
* This resources was MAJORLY updated on 10/2019*
This packet will guide your planning and instruction process for using a guided reading approach with children with special needs or autism. This packet contains schedules templates, lesson plan forms, reading activities, visual question prompts, academic visuals, and more!
This resource will guide your setup process from start to end!
How to setup up guided reading groups:
templates for organizing assessment information
instructions for grouping students
two versions of schedule template with a sample included
student color coded mini schedule
detailed center labels
5 different independent centers with labels, activity templates, and instructions
5 different adult directed centers with labels, activity templates, and instructions
How to plan guided reading groups:
binder setup and labels
5 different versions of daily, weekly, and monthly lesson plans
curriculum map template
thematic planning template
How to run guided reading groups:
guided reading group activity mini schedule with visuals
behavior visual expectations
behavior visual cards
3 versions of token boards
3 social narratives
instructions on how to run guided reading group
visual before, during, and after we read posters
visual strategies and concept cards organized by reading levels A-J (over 70 cards)
wh- question cards with visuals
comprehension cards
over 30 worksheets on a variety of concepts
leveled book report forms (for A/B, C/D, E/F, G/H, and I/J)
How to collect data on guided reading groups:
6 different data sheets for a range of types of skills
There is SO much included in this resource! Check out the video preview to see every page:
https://www.youtube.com/watch?v=Be4nuOi5aCs&feature=youtu.be
for more resources, tips, and materials to help you help children with autism please visit The Autism Helper
Report this resource to TPT