Unbroken Complete Study Unit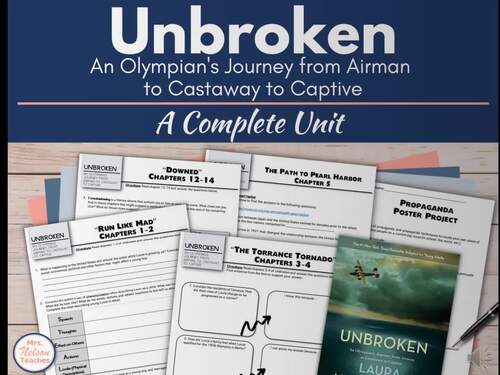 ;
125+ PDF Pages; 125+ Slides
What educators are saying
My students loved this resource. It helped them engage with the text and prompted engaging discussion.
Description
Captivate your students with the incredible story of Louie Zamperini in Unbroken. This will engage your class right from the start with interactive activities, thought-provoking discussions, and even fun creative assignments! You and your students will this deep dive into the world of Louie and World War II!
With this teacher time-saving unit, students will go beyond basic comprehension questions and learn and practice ELA content and skills!
This Unbroken Unit is divided into and includes all the materials and resources you need to simply print and teach. "Everything" includes detailed lesson plans, instructional Slides presentations, student handouts and assignments, answer keys, supplemental texts, activities, and more!
This unit is designed to be a companion to the Young Adult version of Unbroken.
Unit Plan Overview
19 Detailed Lesson Plans
Over 100 PDF Pages of Resources and Materials
Over 100 Instructional Slides
Student Activities and Assignments
Discussion Questions
Creative Student Projects
Four Supplemental Texts for Additional Readings
Answer Keys!
Additional Resources for Teachers
Teacher Guidelines and Instructions
:
Characteristics of Narrative Non-Fiction
Hooks in Writing
Characterization
Literary Allusion
Writing Better Paragraphs
Informational Text Features
Visualization
Summarization
Making Connections
Providing Evidence to Support Answers
Critical Thinking
Making Inferences
Persuasive Writing
Compare/Contrast
Reading Maps
Annotating a Text
Determining Importance
Making Predictions
Foreshadowing
Propaganda
Propaganda Techniques
How to Analyze Propaganda
Determining Author's Viewpoint
Plot Structure
Theme Analysis

You Might Also Be Interested In:
The Witch of Blackbird Pond - Complete Novel Unit
Informational Text Feature Unit
Free Stuff!
Did you know that TpT gives you credits towards future purchases when you leave feedback? Your feedback is so important to me as I try to provide the best products possible! Please go to your "My Purchases" page (you may need to log in). Next to each purchase, you'll see a "Provide Feedback" button. Simply click on the button and it will take you to a page where you can give a quick rating and leave a short comment. Thank you so much for providing valuable feedback!
Connect with Me!
Click on the "Follow Me" button on my store page to see all my latest products and updates!
Follow me on Instagram @mrs.nelson.teaches.
Follow me on Pinterest! Brenna Nelson
Check out my NEW Blog: mrsnelsonteaches.com
Total Pages
125+ PDF Pages; 125+ Slides
Teaching Duration
1 month
Report this resource to TPT
Standards
to see state-specific standards (only available in the US).
Cite the textual evidence that most strongly supports an analysis of what the text says explicitly as well as inferences drawn from the text.
Determine a theme or central idea of a text and analyze its development over the course of the text, including its relationship to the characters, setting, and plot; provide an objective summary of the text.
Analyze how particular lines of dialogue or incidents in a story or drama propel the action, reveal aspects of a character, or provoke a decision.
Compare and contrast the structure of two or more texts and analyze how the differing structure of each text contributes to its meaning and style.
Analyze how differences in the points of view of the characters and the audience or reader (e.g., created through the use of dramatic irony) create such effects as suspense or humor.