Understanding Argumentative Texts - A Toolkit for RI.6.8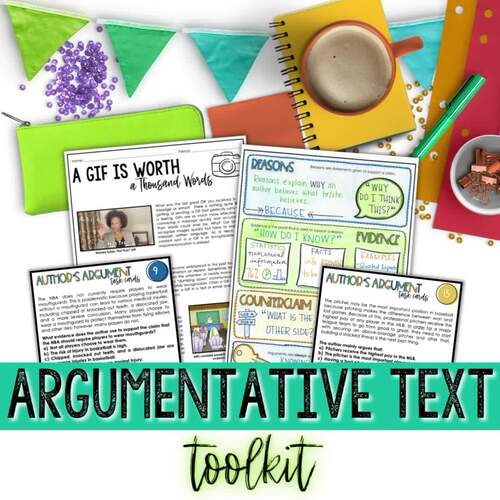 ;
Zip

Google Apps™
Includes Google Apps™
This bundle contains one or more resources with Google apps (e.g. docs, slides, etc.).
What educators are saying
Thank you so much for your time on this resource. It contained so much information to help student with argumentative reading and writing.
This helped me fill a gap in my reading standards and supplemented my argument writing lessons as well! My students really enjoyed the podcast, and the elements of argument notes were very helpful.
Products in this Bundle (5)
Bonus
The Art of Argumentation Essential Question Doodle Page
Description
While middle school students might be naturals at arguing, teaching them how to read and understand argumentative texts is a different story! With this reading toolkit for informational standard 6.8, you'll get access to several mini-lessons and activities that break down the elements of an argument into easy, digestible chunks. These mini-lessons will help your students analyze arguments in no time!
✔ Check out the preview for a closer look!
This argument analysis bundle will give your students engaging and appropriate practice in identifying the author's claim, tracing arguments, and evaluating evidence and reasoning.
► This Argumentative Text Toolkit includes:
⭐️
⭐️
⭐️
⭐️
⭐️
This bundle of argument resources will allow your students to work with arguments before writing their own! 
The best part? The majority of the hard work has been done for you, and everything comes in printable and digital formats. Your students will be ready to write their arguments in no time!
___________________________________
TEACHERS LIKE YOU SAID…
⭐️⭐️⭐️⭐️⭐️ Sheri says, This is an outstanding product! Thank you for your time and effort in creating it! I began using this with my students last week as a way to help them understand and strengthen the skill of argument writing. I'm very impressed with this and my students are responding well so far!"
⭐️⭐️⭐️⭐️⭐️ The Mind Hive says, "I loved this resource! It introduced me to JamBoard and to an awesome website for argumentative podcasts. As a newer teacher, I found myself overwhelmed with argument standards. This resource was perfect to get my students identifying claim, evidence, and reasoning! Thank you so much for all of your hard work!"
⭐️⭐️⭐️⭐️⭐️ Naomi says, "Loved this resource. It is very useful and engaging! Thank you so much!"
___________________________________
Have a question?
Please check out the Q & A section or email me at info@heynatayle.com.com. I'll get back to you within 24 hours.
Remember to leave feedback! I love to hear what my buyers say, how the product worked for them, and any feedback I can use to improve my product! (It also earns you points towards future TPT Purchases)
✔️ Follow me to be notified when I've posted new products. New products are always 50% off for the first 48 hours!
✔️ Subscribe to my NEWSLETTER for tips, ideas, and activities that make teaching middle school ELA feel engaging and purposeful.
Thanks so much,
Natayle Brown
___________________________________
Copyright © Hey Natayle.
Permission to copy for single classroom use only.
Please purchase additional licenses if you intend to share this product.
Teaching Duration
2 Weeks
Report this resource to TPT
Standards
to see state-specific standards (only available in the US).
Explain how an author uses reasons and evidence to support particular points in a text, identifying which reasons and evidence support which point(s).
Trace and evaluate the argument and specific claims in a text, distinguishing claims that are supported by reasons and evidence from claims that are not.
Trace and evaluate the argument and specific claims in a text, assessing whether the reasoning is sound and the evidence is relevant and sufficient to support the claims.