Unit 1 Lesson 6: Setting and Accomplishing Goals Video/Activity/Review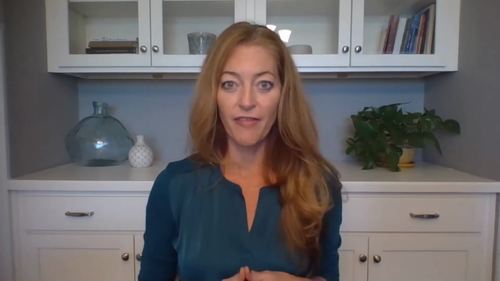 ;
Also included in
Unit 1 Study Skills No Prep Videos/Activities/Reviews (Bundle)Life and Study Skills SEL SeriesThis bundle includes all 9 videos and related editable and printable materials in Unit 1 of the Life and Study Skills SEL Series:Unit 1 - Academic Study SkillsLesson 1:  Identifying Your Learning Style (fre

Price $61.20

Original Price $68.00

Save $6.80
Description
Unit 1 Lesson 6: Setting and Accomplishing Goals - No Prep Video/Activity/Review
Life and Study Skills SEL Series
Students all have things they'd like to accomplish but what's the best way to go about achieving those goals? This instructional video lesson offers students a detailed plan on accomplishing those things they set out to do. This video lesson includes an editable and printable Goal Setting Guide to help students map out SMART goals, identify potential obstacles (and how to head them off at the pass), and develop a timeline for accomplishing goals.
All of the videos in this series can stand alone; however the lessons do complement each other when offered as a bundled unit.
Includes:
Unit 1 Lesson 6 Video length: 10:46 minutes
Document: Goal Setting Guide
Review Video
CREDITS: This presentation template was created by Slidesgo, including icons by Flaticon, and infographics & images by Freepik.
(To avoid duplicate purchases, please make sure you purchase either this no prep Video lesson or, if you prefer to present the material yourself, a Google Slides lesson. The activities included in both types of lessons are the same.)
Thank you for your interest!  I hope you enjoy the series as much as I enjoyed creating it! Your positive feedback and constructive criticism are very much appreciated. Please don't forget to follow me and leave a review to earn credits toward your TPT purchases. Please do not hesitate to contact me with any questions or concerns. Thanks!
Please note: All rights reserved by the author, Life and Study Skills SEL Series. This product is to be used by the original purchaser only. Copying for more than one teacher or classroom, or for an entire department, school, or school system is prohibited. This product may not be distributed or displayed digitally for public view, uploaded to a school or district websites, distributed via email, or submitted to file sharing sites. Failure to comply is a copyright infringement and a violation of the Digital Millennium Copyright Act (DMCA). Intended for single classroom and personal use only.
*The material provided in this course is not intended to serve as, or replace, medical care or behavioral counseling and therapy services provided by a licensed professional
About the Life and Study Skills SEL Series:
This comprehensive video series offers preteens and teens (~5th-10th grades) relevant, useful, and lifelong strategies that motivate them to achieve their bests in the areas of academics, emotional wellbeing, physical health, relationships, and character development.  Lessons can viewed independently, or purchased as a discounted unit bundle. 
The content in each video spans across all school subjects and presents real-life examples and stories to help students stay connected and engaged.  Videos follow a similar format: a catchy musical introduction, lesson overview, an explanation as to why the topic is relevant to students, material presentation, embedded video and audio clips, and one or more related self-assessment or practice activities.  All videos include a powerpoint presentation with a "live" teacher (me!) providing instruction.  Lessons can be viewed and then revisited over time to provide continued guidance, support, and encouragement to students.  
Videos can be used in a variety of settings including homeschool, individual or small group counseling sessions, and whole group classrooms.
Topics in the Life and Study Skills SEL Series:
Unit 1 - Academic Study Skills
Lesson 1:  Identifying Your Learning Style (free)
Lesson 2: Strategies for Different Learning Styles
Lesson 3: Time Management Analysis
Lesson 4: Time Management Strategies
Lesson 5: Organization
Lesson 6: Accomplishing Goals
Lesson 7: Goals and Vision Boards
Lesson 8: Motivation
Lesson 9: Test Taking Strategies
Unit 2: Emotional Wellbeing
Lesson 1: Emotional Regulation
Lesson 2: Self Esteem
Lesson 3: Identifying Stressors
Lesson 4: Stress Toolkit 1
Lesson 5: Stress Toolkit 2
Lesson 6: Stress and the Brain
Lesson 7: Mindfulness
Lesson 8: Attention and Focus
Lesson 9: Managing Change and Loss
Lesson 10: Managing Anger
Unit 3: Physical Health
Lesson 1: Nutrition
Lesson 2: Sleep
Lesson 3: Exercise
Lesson 4: Physical Safety
Lesson 5: Adolescence
Lesson 6: Personal Hygiene
Lesson 7: Personal Appearance and Self Image
Lesson 8: Improving Self Image
Unit 4: Positive Relationships
Lesson 1: Relationships
Lesson 2: Communication
Lesson 3: Verbal Communication Skills (Speaking and Listening)
Lesson 4: Conflict Resolution
Lesson 5: Peer Pressure
Lesson 6: Bullying/Cyberbullying
Lesson 7: Online Safety/Social Media
Unit 5: Character Building
Lesson 1: Perseverance
Lesson 2: Honesty
Lesson 3: Generosity and Giving
Lesson 4: Positivity
Report this resource to TPT