United States Geography - US Regions & State Research Project Unit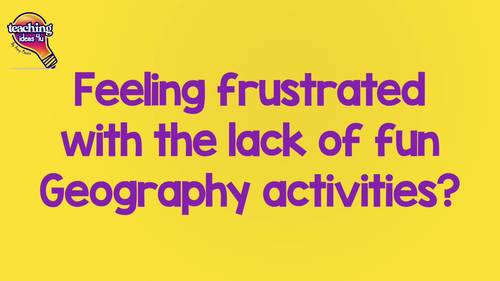 ;
Zip

Google Apps™
Includes Google Apps™
The Teacher-Author indicated this resource includes assets from Google Workspace (e.g. docs, slides, etc.).
What educators are saying
Thank you for creating this resource. The kids loved it and had an enjoyable time using it. It was very time saving as well.
This is a great resource. My students had no problem completing the assignment. Very user friendly.
Also included in
This United States Geography and ELA Resource Bundle has everything you need to integrate the two subjects! It includes 5 separate resources, including a U.S. geography nonfiction/informational text unit, a paired passages set, a research project, a set of pre-written exit tickets, and a map skills

Price $25.00

Original Price $31.25

Save $6.25

American History Writing Units Bundle: U.S. Geography - Westward ExpansionAre you looking for a way to integrate writing standards into your American history class? This bundle includes 7 different writing projects that cover U.S. regions, Native Americans, Exploration, Colonial America, American Re

Price $39.40

Original Price $49.25

Save $9.85

Are you struggling to cover all your standards due to a lack of time? Save your time and energy with this ELA and American History Integrated Bundle. These resources combine language arts and social studies standards for you to use in your 4th, 5th, & 6th grade classrooms. These integrated units

Price $165.00

Original Price $226.25

Save $61.25
Description
Plan a trip through the regions of the United States with this hands-on project! Students select two states in each U.S. region to research, then complete a note page on their selected states. They find two places in each state to "visit," then use a U.S. map to plan their trip route.
What's Included
PDF and Google Slide versions
Extension research page for use to differentiate the project. 
2 Mini-lessons 

taking and organizing notes
writing a bibliography

Rubrics are included so you can easily grade projects on social studies, presentation, and narrative writing standards. 
Included in Unit
Research page for each of the United States regions.
Research page for each of the 50 states
U.S. map to plan a trip across the country
Student project letter (uneditable)
Optional back to the state research page with spots for topics such as natural resources and climate. Teachers can use this page or leave it off, depending upon their needs/time frame.
Organizing Your Notes Mini-Lesson
Writing bibliography notes page
A student checklist
Rubrics for social studies, presentation, and narrative writing. Use one or all for different grades (each focuses on different standards.)
Teachers Love It!
"This is perfect. This is easy to follow along for my students and with just a small amount of research, they can learn more about our states. Thank you for this resource!" – Ashley Stafford (TPT Seller) 
"My students loved researching different places across the country. This gave them some great future vacation ideas :) Thank you so much for this wonderful resource." – Melissa G. 
Teacher Notes
Integrate social studies and language arts with narrative writing! Have students write a journal about their trip across the country.
Flexible resource! Parts and pieces can be utilized in a wide variety of ways, depending upon how you plan to organize your class. Here are some examples: 

1. I used it to research a trip around the United States, as my standards are to study the regions of the United States. We researched a region per week in our 30 minute center. I allowed my students to select which state in each region they wanted to visit, but I also have a printer in my room that made it easy to make copies. Teachers could assign a state or have students preselect states.
2. This could also be used to research individual states. Teachers could create a class book on the United States, with each student researching one or two states. For 4th grade teachers teaching state history, just use your state's page.
3. Extend the research project into a writing project, having students use their research to create a narrative essay on "their trip.
4. If you have class penpals, you could use these forms to help students research information about where they live. This will help them add more detail in their letters!
Standards & Testing
This unit could be used to cover standards for:
state research
U.S. regions/geography
nonfiction research
writing a narrative
**************************************************************************
Love Free Stuff?
Get TPT credit for future purchases! 
• Just leave a review! Log into your My Purchases page and find the Provide Feedback button next to each purchase you've made. For each review you leave (rating + comment), TPT gives you feedback credits you can use toward future purchases. Plus, it helps me determine the most valuable resources for your classroom so I can keep creating more great content for you. ☺
Be in the know! 
• Follow me to stay updated about new discounts, freebies and product launches! Just click the green star next to my store logo! ☺
**************************************************************************
Teaching Duration
2 Weeks
Report this resource to TPT
Standards
to see state-specific standards (only available in the US).
Refer to details and examples in a text when explaining what the text says explicitly and when drawing inferences from the text.
Interpret information presented visually, orally, or quantitatively (e.g., in charts, graphs, diagrams, time lines, animations, or interactive elements on Web pages) and explain how the information contributes to an understanding of the text in which it appears.
Integrate information from two texts on the same topic in order to write or speak about the subject knowledgeably.
Quote accurately from a text when explaining what the text says explicitly and when drawing inferences from the text.
Draw on information from multiple print or digital sources, demonstrating the ability to locate an answer to a question quickly or to solve a problem efficiently.