Unplugged Coding Bundle! 12 Activities for a whole year of STEM (Eng. & French)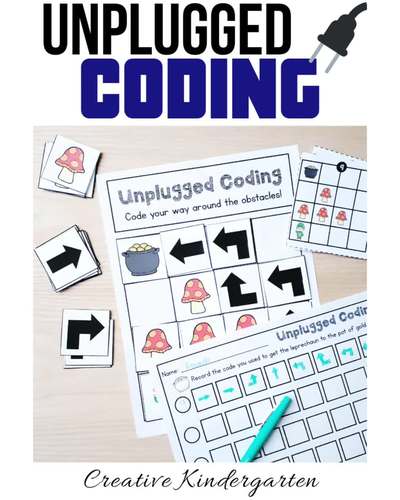 ;
What educators are saying
It was a great add on to my math centers this year. It really helped them independently review what was taught in class.
These have been so helpful for me to begin teaching coding and get a basic understanding before introducing students to online coding.
Products in this Bundle (12)
showing 1-5 of 12 products
Description
This year-long set has themes for every holiday and season so students can practice coding all year. In each set, students code different things or people to their target while avoiding obstacles. This no-tech coding activity is perfect for introducing the basics of directional coding to your students. There are no devices needed, just print and go!

Students will learn to code by creating their own paths using arrows, or they can test their skills by solving the task cards. They can then use the recording page to write their program.
⇒ 2 different activity sets are included with each set, a 4x4 grid and a 6x6 grid. Choose the level of difficulty you would like to give your students.
⇒ A French version of both size grids is included.
What is included in each set:
→ Work Mat: a grid that students can use to place their start, target and obstacle cards.
→ Arrow Cards: students place these cards on their work mat to code their path from the start to the target.
→ Picture Cards: start, target and obstacles. Students place these cards on their work mat.
→ 12 Task Cards: Students can replicate the placement of the items on their work mat, then figure out the code to solve it.
→ Recording Page: Students can write out the code they used to solve the task cards by drawing the arrows they used to get the caterpillar to the butterfly.
→ *BONUS* Bee-Bot Cards: If you would like to take this coding activity to the next level, you can use these cards with a clear mat or grid and a Bee-Bot.
⇒ For a complete look at what is included with each product, take a look at the preview.
Need the Boom Card version? Check this out:
Bundle Includes:
⇒ Fall
⇒ Winter
⇒ Spring
⇒ Easter
⇒ Summer
⇒ Space
Stay connected:
♥ Follow my store to see when I upload new items: Creative Kindergarten
♥ Follow me on Instagram
♥ Like me on Facebook
♥ Follow my Blog
♥ Take a look at my Pinterest
Report this resource to TPT