Unplugged Coding & Retelling a Story with Scratch Jr Snowmen at Night Activities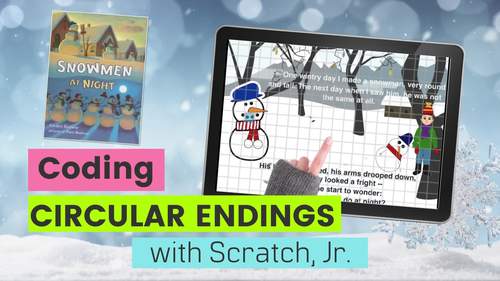 ;
What educators are saying
My students loved this project in Scratch Jr. Tis was perfect for our lead up to the Winter Break!
My third graders love to create using Scratch Jr. and this resource helped give them some structure instead of an overwhelming totally open ended assignment.
Also included in
Teaching students storytelling and coding is a critical component to any 21st-century classroom. However, if you are a classroom teacher, you may feel you don't have the time to add one more thing to your already busy schedule. By integrating coding into your literacy curriculum, you have the abilit

Price $45.38

Original Price $56.91

Save $11.53
Description
If you have students who struggle with reading comprehension or love reading and hearing books, this is the unit for you. According to the simple view of reading, students must have word recognition and language comprehension to comprehend books. These unplugged coding and retelling story activities are just what you need to strengthen language through an interactive read-aloud and retelling using the book Snowmen at Night.

⭐️ Bundle & save for a discount ⭐️
Purchase the Yearlong Coding Units and receive 25% off.
This coding unit includes 36 pages of fun & engaging coding and reading activities perfect for 2nd, 3rd, and 4th-graders. The zip file has the following:
Objectives and Standards page
Materials List
Vocabulary Cards
Assessments - Looping Assessment & Rubric for Retelling
3 Lesson Ideas - Read Aloud & Scratch Intro, Snowmen Dance Party, and Circular Endings
Anchor Chart Example
Task Cards for Creating and Retelling Stories
Looping and Movement Cards
Make Your Dance Worksheets
Book Lists
Sharing Projects
Unplugged coding game to understand coding without technology
These activities are perfect to use during your reading workshop or read-aloud time; when complete, place them in a center for students to complete other Scratch, Jr. stories or create their coding dances. Use the lessons for distance learning, early finishers, enrichment, or students struggling with language comprehension.

Do your students need more practice with text structure and language? These activities are perfect for learning more about literature in a fun and creative way!
The best part? Your students will quickly learn Scratch, Jr. and be able to code even more books for hours of fun. No copies are required!
TEACHERS LIKE YOU SAID…
⭐️⭐️⭐️⭐️⭐️ Mandy M. said, "My third graders love to create using Scratch Jr., and this resource helped give them some structure instead of an overwhelming totally open-ended assignment."
⭐️⭐️⭐️⭐️⭐️ Sarah H, "My third-grade enrichment class is working through this right now. When we finish this activity, we are going to follow up with a snow STEM activity. This is a great product to enrich a snow unit!"
⭐️⭐️⭐️⭐️⭐️ Leeann D. said, "I'm impressed with this engaging unplugged coding activity - students enjoy it! Thank you." 
Students complete the different activities in Scratch, Jr, and export or record their work to share with the world. If you are looking for ways of how to share digital resources, please see
Supports Common Core Standards (CCSS):
RL.2.2, RL.2.3, SL.2.1, SL.2.2
RL.3.2, RL.3.3, SL.3.1, SL.3.2
RL.4.2, RL.4.3, SL.4.1, SL.4.2
You may also like…
→ Winter STEM Activities Build a Snowman

Don't forget that leaving feedback earns you points toward FREE TPT purchases. I love that feedback!
Also, follow me and be notified when new products are uploaded. New products are always 50% off for the first 24 hours they are posted. It pays to follow me!
As always, don't hesitate to get in touch with me with any questions!
Thank you so much,
Jen
___________________________________
Have difficulty with a file?
Visit the FAQs section, submit a help ticket, or ask questions on the Q& A tab before leaving feedback.
___________________________________
Copyright © Tech with Jen, LLC.
Permission to copy for single classroom use only.
Please purchase additional licenses if you intend to share this product.
Teaching Duration
1 month
Report this resource to TPT
Standards
to see state-specific standards (only available in the US).
Determine central ideas or themes of a text and analyze their development; summarize the key supporting details and ideas.
Analyze how and why individuals, events, and ideas develop and interact over the course of a text.
Analyze the structure of texts, including how specific sentences, paragraphs, and larger portions of the text (e.g., a section, chapter, scene, or stanza) relate to each other and the whole.
Write narratives to develop real or imagined experiences or events using effective technique, well-chosen details, and well-structured event sequences.
Prepare for and participate effectively in a range of conversations and collaborations with diverse partners, building on others' ideas and expressing their own clearly and persuasively.