Up Movie Guide in Spanish / Una Aventura de Altura - All Levels - Editable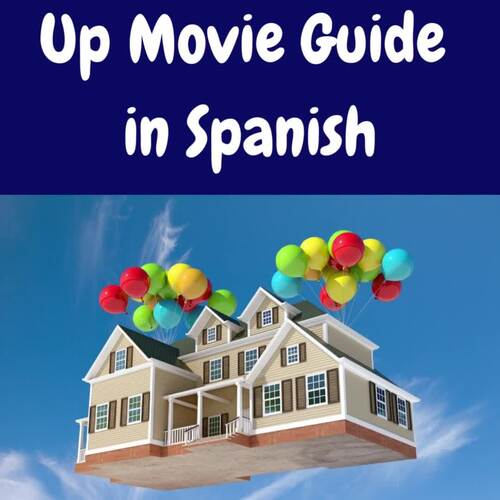 ;
Description
This 50+ page movie and vocabulary packet for the popular movie, Up, has all of the materials necessary to teach this film in your Spanish classes! Students can improve their listening, writing, and speaking skills with the excellent resources in this packet. Students can practice the preterit with an adorable Up video activity and can participate in a discussion comparing the beautiful poem, Con El Tiempo, with scenes from the movie. Spanish one through AP Spanish students will learn from these journals, vocabulary activities, quizzes, Who Am I and more activities!
This packet includes:
A) EL VOCABULARIO PARA UNA AVENTURA DE ALTURA / VOCABULARY
*Movie Vocabulary in Spanish and English, Spanish only, and English only.
The vocabulary goes in the same order as the movie.
B) LOS CRUCIGRAMAS PARA UNA AVENTURA DE ALTURA / CROSSWORDS
*Two Crossword Puzzles that correspond with each page of the vocabulary
(From the Spanish and English version of the vocabulary)
*Keys For All Crossword Puzzles
C) LAS ACTIVIDADES DE COMPRENSIÓN / COMPREHENSION QUESTIONS
*Comprehension Questions that follow the sequence of the movie
Spanish Present Tense and Past Tense versions as well as an English Version with Answer Key
*True/False Quiz in Spanish with Answer Key
*True/False Quiz in English with Answer Key
D) LAS ACTIVIDADES ESCRITAS / WRITING ACTIVITIES
*Una Aventura de Altura Opinion Movie Worksheet in Spanish
*Summary of the Movie Writing Activity in Spanish
*Blank Fill-In Movie Information Sheet in Spanish
*Journals - Six Different Writing Prompts in Spanish
E) LAS ACTIVIDADES DE ESCUCHAR / LISTENING ACTIVITIES
*Which Movie Character Is Being Described? Listening Comprehension Activity in Spanish
F) LAS ACTIVIDADES DE EXTENSIÓN / EXTENSION ACTIVITIES
*Movie Critique Writing and Discussion Activity in Spanish
*Video Activity – El Verdadero Amor – Preterite Verb Activity in Spanish
with Answer Key
*Video Activity – "Con El Tiempo" – poema por Borges in Spanish with Comprehension Questions and Answer Key
What Teachers Like You Are Saying:
⭐⭐⭐⭐⭐ Love its organization and how it takes students through the movie scenes from beginning to end!
⭐⭐⭐⭐⭐ High quality work as always.
⭐⭐⭐⭐⭐ Excellent resource!
***If you are looking for additional movie resources for your classroom, check out our website! We have links for movie packets, trailers, and tons of other ideas to enrich your lessons and make your job easier!
ALL sparkenthusiasm movie guides
Let's connect! We would love to hear from you!
Have a great school year!
Report this resource to TPT