VERBAL PHRASES: TEACHING AND LEARNING RESOURCES - BUNDLE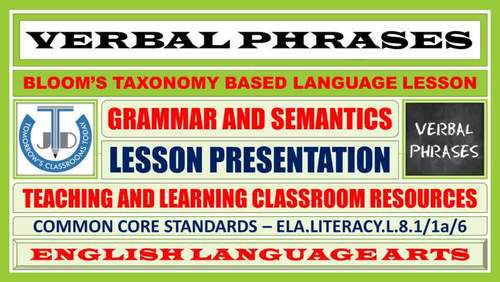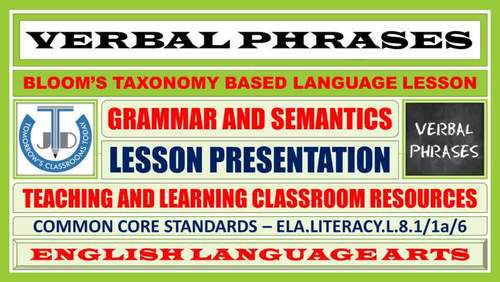 Created By
JOHN DSOUZA
Products in this Bundle (4)
A unit set of scaffolding notes with 6 sessions on teaching and learning resources of verbal phrases based on New Bloom's Taxonomy.After completing this unit students will be able to:SESSION 1 - REMEMBERING - Compare and contrast verbal phrases.SESSION 2 - UNDERSTANDING - Infer and grasp the meaning

A unit set of worksheets with 6 sessions on teaching and learning resources of verbal phrases based on New Bloom's Taxonomy.After completing this unit students will be able to:SESSION 1 - REMEMBERING - Compare and contrast verbal phrases.SESSION 2 - UNDERSTANDING - Infer and grasp the meaning of ver

A unit lesson plan with 6 sessions on teaching and learning resources of verbal phrases based on New Bloom's Taxonomy.After completing this unit students will be able to:SESSION 1 - REMEMBERING - Compare and contrast verbal phrases.SESSION 2 - UNDERSTANDING - Infer and grasp the meaning of verbal ph

A unit lesson presentation with 6 sessions on teaching and learning resources of verbal phrases based on New Bloom's Taxonomy.After completing this unit students will be able to:SESSION 1 - REMEMBERING - Compare and contrast verbal phrases.SESSION 2 - UNDERSTANDING - Infer and grasp the meaning of v
Bundle Description

Standards
A unit bundle of 4 products with 6 sessions on teaching and learning resources of verbal phrases based on New Bloom's Taxonomy.
After completing this unit students will be able to:
SESSION 1 - REMEMBERING - Compare and contrast verbal phrases.
SESSION 2 - UNDERSTANDING - Infer and grasp the meaning of verbal phrases.
SESSION 3 - APPLYING - Examine and discover the structure of verbal phrases.
SESSION 4 - ANALYSING - Analyse and explain the use of verbal phrases.
SESSION 5 - EVALUATING - Assess and evaluate the use of verbal phrases.
SESSION 6 - CREATING - Demonstrate command of the conventions of standard English grammar and usage when writing.
This download includes:
Scaffolding Notes - 6 Handouts
Worksheets with Answers - 14 Exercises
Lesson Plan and Resources - 6 Sessions
Ready to Use PowerPoint Presentation - 6 Sessions
Here are some possible uses for these in your classroom:
To challenge early finishers
For effective tutoring
As ESL stations and sub tubs
As holiday work and homework
For small group collaborations
For an end of unit assessments 
For reinforcement and enrichment
Customer Tips: How to get TPT credit to use for future purchases
Please go to your My Purchases page (you may need to log in). Beside each purchase, you'll see a Provide Feedback button. Simply click it and you will be taken to a page where you can give a quick rating and leave a short comment for the product.
Each time you give feedback, TPT gives you feedback credits that you use to lower the cost of your future purchases. 
I value your feedback greatly as it helps me determine which products are most valuable for your classroom so I can create more for you.
Look for the green star next to my store logo and click it to become a FOLLOWER. You will now receive email updates about this store. Be the first to know about my new discounts, freebies, and product launches.
This is what teachers say about these resources:
Find Me Here:
Log in
to see state-specific standards (only available in the US).
Use various types of phrases (noun, verb, adjectival, adverbial, participial, prepositional, absolute) and clauses (independent, dependent; noun, relative, adverbial) to convey specific meanings and add variety and interest to writing or presentations.
Acquire and use accurately grade-appropriate general academic and domain-specific words and phrases; gather vocabulary knowledge when considering a word or phrase important to comprehension or expression.
Explain the function of verbals (gerunds, participles, infinitives) in general and their function in particular sentences.
Demonstrate command of the conventions of standard English grammar and usage when writing or speaking.
Answer Key
Included with rubric
Report this Resource to TpT