VIRTUAL SNOW DAY | WINTER THEME DAY | Google Slides | Distance Learning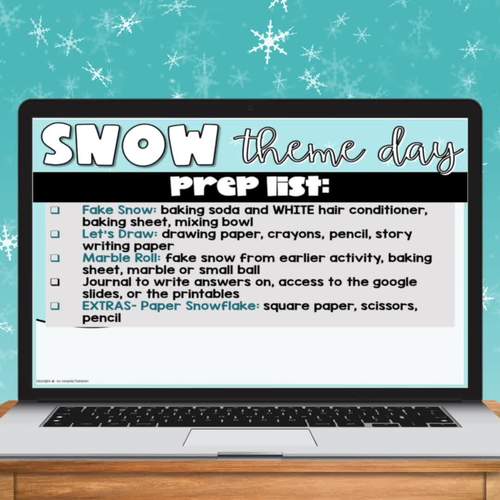 ;
Zip

Google Apps™
Includes Google Apps™
The Teacher-Author indicated this resource includes assets from Google Workspace (e.g. docs, slides, etc.).
What educators are saying
This was extremely helpful when having to teach from home last minute due to snow days. Thank you. My students LOVED it!
This resource was AMAZING for our snow days at home. Everything was ready to go and so easy to use virtually.
Also included in
THIS BUNDLE INCLUDES:1. Snow Day Theme Day2. St. Patrick's Day Theme Day3. Spring Fun/Easter Theme Day4. Earth Day Theme Day5. Friendship Theme Day6. Super Silly Theme Day7. Animal Theme DayPlease enjoy this resource! If you have any questions or concerns about this product, please email me at Amand

Price $31.00

Original Price $44.00

Save $13.00
Description
This is also included in Virtual Theme Day Bundle 3
Literally everything you need to just send it right away to parents. Directions for parents included. Little to NO PREP! Super easy to implement. Click and go for the whole day! A mix of academics (science, reading, writing), physical activities, mindfulness, Art, and more! Does not contain any Christmas themes, it is directly snow related.
-Also included: directions on how to change it up to work for you if you want to do less activities, a different order, etc. All/any slides can be rearranged/deleted.
-
-A mixture of video based and google slides fill in activities (does involved typing)
-Everything can be done following digital learning goals and social distancing
IF AN ENTIRE SCHOOL WANTS TO DO the event- the first license must be purchased at full price via this listing and then one additional license per grade level in the school. So it if it a K-3 school you would need to purchase 1 + 3 additional licenses (this can be done at checkout). If you are purchasing for an entire district- please email me directly for a quote prior to purchasing. My email is AmandaThompsonsTeachings@gmail.com. Thank you!


-Snow Day Implementation Ideas
-PDF to send directly to parents with Google Slides link
-Prep/Supply list- minimal
-Where does Snow come From? Video
-Can Snow Be Dangerous? A look at Blizzards! video
-Let's Make Snow- MAKE FAKE SNOW activity (this snow is needed for 2 other activities in the pack)- only two ingredients!
-How to writing for how to make fake snow
-Snow Spelling in fake snow
-Polar Bear Yoga- guided video
-Marble Roll Challenge- with fake snow
-Let's Draw- Snow people Hugging
-Winter Favorites Game- similar format to Favorites game but winter themed
-Doodle Challenge: Winter Words- Compound Words
-Snow Reading with video of light snow, music, and relaxation
-Winter Hunt Scavenger Hunt
-WINTER EXTRAS:
-Snow Day Reflection
-Paper Snowflakes
-Let's Draw- How to Draw a Snowflake
PLUS: Printable organizers of all organizers in digital presentation. This is EASY PREP for your hybrid classrooms!

Please enjoy this resource! If you have any questions or concerns about this product, please email me at AmandaThompsonsTeachings@gmail.com before commenting! :) Thank you!

If you purchase and post pictures of your theme day, Please tag me @thompsonsteachings on Instagram so I can repost your page!
HAVE FUN!

Disclaimer: The videos included in this document are links from YouTube. The videos included are LINKED and therefore still give all credit and views to the original creator of each video. They are not embedded and therefore NOT taking anything away from original creators- the original artistS ARE still getting the views and exposure since they are linked and watched on YouTube. The videos themselves have been reviewed and only contain child appropriate material. Any ads, banners, and/or videos that play if you click out of this slideshow are posting or the creator of this document. All videos should be watched with adult supervision. Thank you!

Report this resource to TPT