Valentine's Day Activities for All Subjects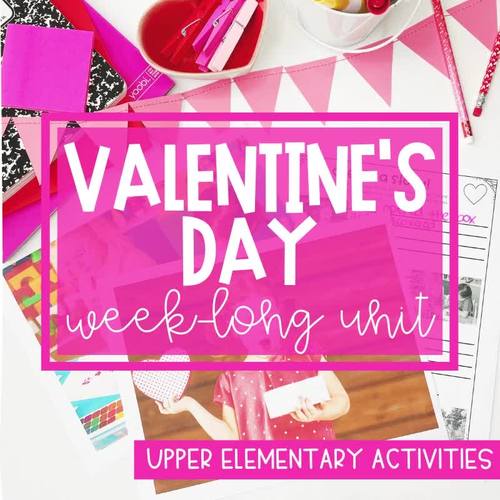 ;
What educators are saying
Students loved learning participating in Valentine's Day activities that weren't too childish with these activities!
My students found the comic strip interesting and enjoyed using the conversation hearts to create a comic.
Description
Keeping students engaged in rigorous content during a holiday week is hard! But not with this resource, relate Valentine's Day to , , , and for upper elementary students! All activities are rigorous, engaging, and upper elementary focused!
Make Valentine's Day fun for your students, but also challenge them and keep them reviewing rigorous activities.
How will this help the teacher and student?
Engagement- Students will be engaged the ENTIRE time you are learning about Valentine's Day and participating in love-themed activities.
Integrated- All subjects will have lessons relating to Valentine's Day. You will teach math, science, writing, grammar, social studies, and reading all with the same theme!
Rigor- These activities are higher level and really make your kids think beyond the text!
Low Prep- Almost all activities are print and go!
What's Included?
Included:
All activities have a teacher guide included for extra instruction.
Literacy Activities:
1. 5 Reading Rotation Activities: Listen to reading which includes QR codes or websites, compare and contrast point of view (with two included original stories), LOVE figurative language practice, building a story from pictures, and a teacher lesson with a mini reader included
2. Mentor Text Lessons with Somebody Loves You Mr. Hatch on Character Changes
3. 4 Day Lesson Plan for the Novel Cam Jansen and the Valentine Baby Mystery each day includes discussion questions and a read-aloud activity!
4. Group Project on Valentine's Day Around the World with original stories provided
Writing/Grammar Activities:
1. Fix-It Love Sentences (working on commas and quotations specifically)
2. Writing Love Letters to Parents
3. Lesson on how to address envelopes that goes with the parent letters
Math Activities
1. Valentine's Day Word Problem Race (pink is one step problems and blue are multistep) your seat assignment, math websites for Valentine's Day games, a math fact practice game, and a teacher lesson on multistep word problems
2.Valentine's Day Word Problem Race (pink is one step problems and blue are multistep)
3. Solve the Riddles- This is a logic type activity which challenges their brain.
4. Heart Fractions Teacher Lesson and Activity-working on equivalent fractions
Social Studies Activities
1. History of Valentine's Day Research Project
2. Valentine's Day Economics (making budgets and making Valentine's by being a consumer and producer)
Science
1. Candy Heart STEM
2. Life Cycles of Love Lessons
You can find more details and pictures about this unit here!
What are others saying?!
Jessica M.- "All I can say is, wow! This packet is so thorough.. from reading to fractions.. to similes to editing commas.. to holidays around the world. Wow!"
Andrea M.- "This is my favorite Valentine's Day activities! It is rigorous and fun and engaging. It is well thought out and put together! Best resource ever!!!!"

By clicking this link you can follow along with The Friendly Teacher! You will get to know when a new product is posted, which is 50% off for the first 24 hours!
Other AMAZING products you might need:
Valentine's Day Reading Challenge
Valentine's Day week is always full of excitement. I wanted to keep kids learning and reviewing skills, but still wanted them to join in on a fun theme! That is why I created a unit where the students would be engaged, but also learning and practicing higher level skills! I hope your kiddos are as engaged as mine are during this week!
Much Love,
Hannah
The Friendly Teacher
Report this resource to TPT
Standards
to see state-specific standards (only available in the US).
Recognize area as an attribute of plane figures and understand concepts of area measurement.
Solve real world and mathematical problems involving perimeters of polygons, including finding the perimeter given the side lengths, finding an unknown side length, and exhibiting rectangles with the same perimeter and different areas or with the same area and different perimeters.
Fluently add and subtract within 1000 using strategies and algorithms based on place value, properties of operations, and/or the relationship between addition and subtraction.
Fluently add and subtract multi-digit whole numbers using the standard algorithm.
Interpret products of whole numbers, e.g., interpret 5 × 7 as the total number of objects in 5 groups of 7 objects each. For example, describe a context in which a total number of objects can be expressed as 5 × 7.