Vamos a Charlar - Spanish Communication Packet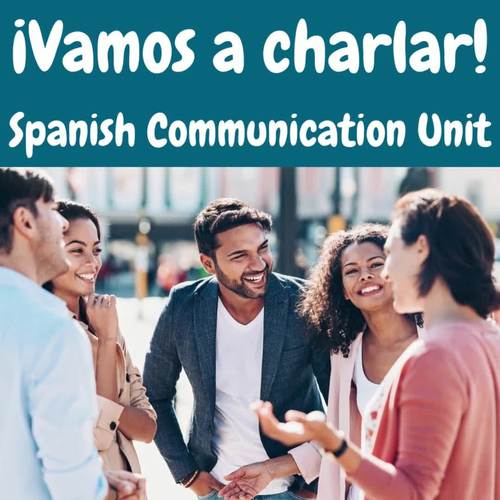 ;
Description
Spanish students need to learn effective ways to communicate via social media, email, in writing, and verbally. This Vamos a Charlar unit checks all the boxes to ensure students can chat in any format! This 98 page EDITABLE and printable Spanish Communication Packet includes tons of speaking and writing activities for beginning through advanced level classes.
Explore all aspects of communication in Spanish with this helpful activity guide. Your students will learn telecommunications, telephone and post office vocabulary and then practice communicating with e-mail, postcards, text messaging, speaking, and interviewing activities.
This unit is filled with a variety of activities and games to encourage and promote speaking practice including scavenger hunts, a board game, interactive commands game, matamoscas, the fly swatter game, and more. This unit will add variety to your classroom games and will make it easier for students to express themselves in Spanish. This is the perfect no-prep resource for your Spanish 1, Spanish 2, Spanish 3 and Spanish 4 classes!
This unit includes:
COMMUNICATION ACTIVITIES
1) Telecommunications, Telephone, and Post Office vocabulary lists in Spanish and in English
~ Telecommunications, Telephone, and Post Office vocabulary crosswords
2) Email/E-card activity
3) Postcard writing activity
4) Text message abbreviations in Spanish
5) Speaking assessment and 5 practice questions/expressions per topic
~ Oral assessment rubric
6) Secret Santa card and gift activity with online extension activities
7) Native speaker culture interview
GETTING TO KNOW YOU ACTIVITIES
1) Conversation starters visual reminders
2) Who has the same? student grouping activity
3) Vamos a Charlar interactive speaking activities (7 different game boards at varying levels plus blank template) - Find someone who games
GAMES
1) Scavenger Hunt in Spanish around the school
2) Págame tickets - Students get "paid" when they catch another student speaking in English! Fun way to hold kids accountable!
3) Conversation board game - Blank one included too to make your own!
4) Guess the famous mystery person game
5) Interactive command game
6) Famous people living museum
7) Matamoscas - Flyswatter Game to do with partners! - 6 templates with topics such as Adjectives, Weather/Months/Seasons, Family, Body Parts, Animals, and Clothing
Teachers Like You Are Saying:
⭐⭐⭐⭐⭐ Great activities! You have become my favorite sellers! Guided practice gives students the opportunity to speak the language creatively but with parameters that make it easier for them to construct sentences. Thanks!
⭐⭐⭐⭐⭐ Awesome resource! Easy to modify as needed for specific levels.
⭐⭐⭐⭐⭐ The best products always! Ready to use!
See all of our most popular and best seller games!
Visit our Spanish-speaking countries, holidays, and culture section on our website!
Spark Enthusiasm Spanish and Hispanic Culture and Holidays!
Let's connect! We would love to hear from you!
Have a great school year!
Answer Key
Does not apply
Report this resource to TPT