Very Hungry Caterpillar Communication and Comprehension Supports for Special Ed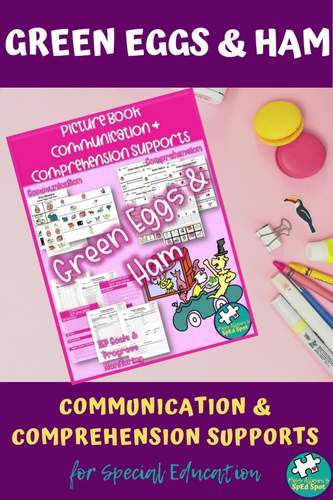 ;
Also included in
Are you looking for thematic activities to supplement your academic instruction or help students better access grade-level curriculum? Do you love teaching literacy using picture books but have students who are nonreaders or reading significantly below grade level? This bundle of thematic unit activ

Price $176.80

Original Price $221.00

Save $44.20

Do you love teaching literacy using picture books but have students who are nonreaders or reading significantly below grade level? This bundle of communication and comprehension level makes it easy to differentiate popular picture books to meet the diverse needs of your students! Includes printables

Price $63.00

Original Price $70.00

Save $7.00

Are you looking for thematic activities to supplement your academic instruction or help student better access grade-level curriculum? Do you love teaching literacy using picture books but have students who are nonreaders or reading significantly below grade level? This bundle of thematic unit activi

Price $18.40

Original Price $23.00

Save $4.60

Are you looking for thematic activities to supplement your academic instruction or help student better access grade-level curriculum? Do you love teaching literacy using picture books but have students who are nonreaders or reading significantly below grade level? This bundle of thematic unit activi

Price $8.80

Original Price $11.00

Save $2.20
Description
Do you love teaching literacy using picture books but have students who are nonreaders or reading significantly below grade level? This collection of communication and comprehension supports are the perfect book companions to make it easier to differentiate popular picture books to meet the diverse needs of your students! Includes printables, Easel activities, IEP goal ideas, and progress monitoring sheets for The Very Hungry Caterpillar by Eric Carle. *Book not included*
Who is it for?
Elementary students in special education
Students with communication and comprehension IEP goals
Non-readers
Features:
: all activities include a color and black & white version, answer key, set-up tips, ways to implement during group, 1:1, and independent work times, and differentiation tips for accommodating or extending learning for every activity (see preview for details).
: hands-on activities encourage interaction and communication
: using PCS from Mayer Johnson (used with permission)
: due to similar formatting across book units
: most activities simply need printed but can be laminated or made into velcro boards for increased durability and interaction
: I have developed and used these activities over many years of teaching in a special education classroom
: available to assign electronically
What's Included (see preview for details):
Communication
: to teach and assess targeted vocabulary (can also be used to create interactive games!)
: for receptive and expressive identification of story vocabulary and generalization
: to generate sentences about the story verbally or through velcro manipulatives
: formatted for use with GoTalk 9+
: for assessing sentence generation
: for vocabulary and sentence building goals
Comprehension
: 3 leveled assessments (multiple choice pictures, multiple-choice words/phrases, fill-in) for answering who, what, where, when, and why questions about the story. *Easel activity*
: Cut-and-paste cloze sentences with picture choice options *Easel activity*
: Picture-based cut-and-paste sequencing of story events
: for wh-questions, writing, sequencing, and higher-order thinking
: for recalling story elements (characters, setting, and events) and answering inferential and evaluative questions about the story
: Convenient data collection sheet for all unit activities to be used for grading and sharing with families
Implementation Tips for Whole/Small Group, 1:1, and independent work times for each activity
Differentiation Tips for Accommodating and Extending each activity to meet student needs
Additional Picture Book Communication & Comprehension Supports for Special Education Units:
© Miss Allison's SpEd Spot
Permission to copy for single classroom use only. Electronic distribution limited to only single classroom use only. If you would like to share this with a friend or colleague, please ask them to visit my store and download the file directly.
Earn TPT credits for leaving feedback! Leaving feedback helps me develop activities and tools that my followers need and also allows you to earn credits that you can use on future purchases.
Report this resource to TPT
Standards
to see state-specific standards (only available in the US).
With prompting and support, ask and answer questions about key details in a text.
With prompting and support, retell familiar stories, including key details.
With prompting and support, identify characters, settings, and major events in a story.
With prompting and support, describe the relationship between illustrations and the story in which they appear (e.g., what moment in a story an illustration depicts).
Actively engage in group reading activities with purpose and understanding.