Veterans Day STEM Activities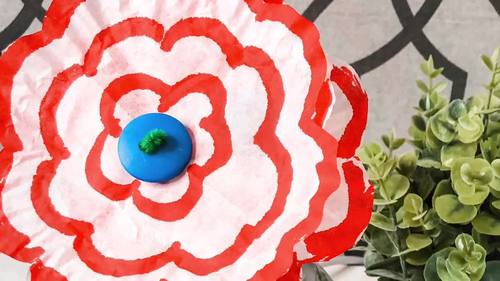 ;
What educators are saying
My students love using this resource to help learn more in science to go along with Veteran's Day. I will be using this for years to come.
This was a great lesson! My students loved it and their poppies! My students held their poppies (with pride) at our Veteran's Day celebration.
Also included in
November STEM activities are the perfect way to keep your students engaged in learning! Each lesson is differentiated to meet the needs of most elementary students. STEAM is STEM with the arts! Each lesson includes the arts! This bundle includes:Dia de Los Muertos STEAM - Students create a layered p

Price $7.60

Original Price $9.50

Save $1.90

Go full STEAM ahead with this year-long bundle! Foster the five c's in your classroom. This includes creativity, collaboration, communication, citizenship, and critical thinking. Your students will love learning about relevant content. This STEM bundle (or STEAM bundle) is helpful for STEM/STEAM Fri

Price $59.97

Original Price $116.24

Save $56.27
Description
Have fun with this highly engaging Veterans Day STEAM activity. These activities will save you time by integrating math, science, social studies, writing, reading, and art into one lesson! You'll love that this resource is hands-on and easy to implement!
teacher background information
lesson plan
reading passage with comprehension question (has answer key)
reading booklet
step-by-step STEAM experiment (with pictures) and planning sheet
datasheet
did you know fact sheet
reflection writing
Veterans Day card
go beyond the resource with website and book suggestions
Students will create a poppy flower with a red design on each coffee filter. They'll place the flower in a cup of water and experiment to see if the water will change the design.
3 coffee filters per student
1 pipe cleaner per student
1 button per student
1 paper towel per student
1 cup of water per student
red markers
Your students will love this experiment, and what's even better is that they'll get to take home a poppy flower and a card to give to a veteran!
Let's get connected! Get more tips, FREEBIES, and coaching from Simply STEAM on social media! Click the STAR to receive a notification on 50% off new resources AND my monthly newsletters!
Report this resource to TPT
Standards
to see state-specific standards (only available in the US).
Tell and write time from analog and digital clocks to the nearest five minutes, using a.m. and p.m.
Tell and write time to the nearest minute and measure time intervals in minutes. Solve word problems involving addition and subtraction of time intervals in minutes, e.g., by representing the problem on a number line diagram.
Know relative sizes of measurement units within one system of units including km, m, cm; kg, g; lb, oz.; l, ml; hr, min, sec. Within a single system of measurement, express measurements in a larger unit in terms of a smaller unit. Record measurement equivalents in a two-column table. For example, know that 1 ft is 12 times as long as 1 in. Express the length of a 4 ft snake as 48 in. Generate a conversion table for feet and inches listing the number pairs (1, 12), (2, 24), (3, 36),...
Ask and answer such questions as who, what, where, when, why, and how to demonstrate understanding of key details in a text.
By the end of year, read and comprehend informational texts, including history/social studies, science, and technical texts, in the grades 2–3 text complexity band proficiently, with scaffolding as needed at the high end of the range.