Virtual Alphabet scavenger hunt, science activity for preschool, Letters A-Z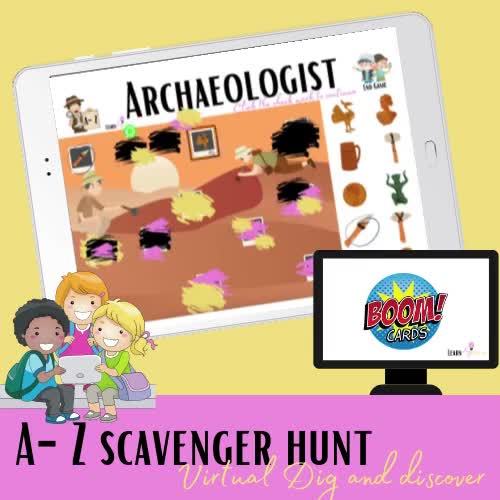 ;
Description
Use this super fun and engaging scavenger hunt activity for a fun brain boost through out the day! It is also a great addition to science/critical thinking. There are 26 lists, one for each letter of the alphabet, making it perfect for letter of the week theme. Each list comes with
Your kiddos will learn to:
⭐️Use problem solving skills
⭐️Visual motor skills
⭐️Fine motor skills
⭐Image recognition
⭐And more!
Directions:
Choose the letter you want to play
Drag the scribbles to uncover the polaroid underneath
Click the image when it is revealed, and then click the match in the right column of the screen
Uncover, click, and match all images on the screen to continue
Click the check mark in the bottom left when you have found them all
Play another letter or end the game
⭐️Polaroids will be in a different position each time you play to ensure a new and engaging activity each time!
⭐️You must hit end game in order for the positions to be changed or it will save your current play as is
___________________________________________________________________
⭐️You may also like:
Boom cards-Solve the case -HALLOWEEN
Solve the case files-Who did it?
Keep in touch!
More colors:
More Shapes:
More Numeracy:
More Literacy:
More Tracing:
Have you tried?
Let's get digital! Boom Cards™ decks <3
Thank you for the support!
-learnplayrepeat
Report this resource to TPT