Virtual Easter Digital Escape Room for Google Slides & Seesaw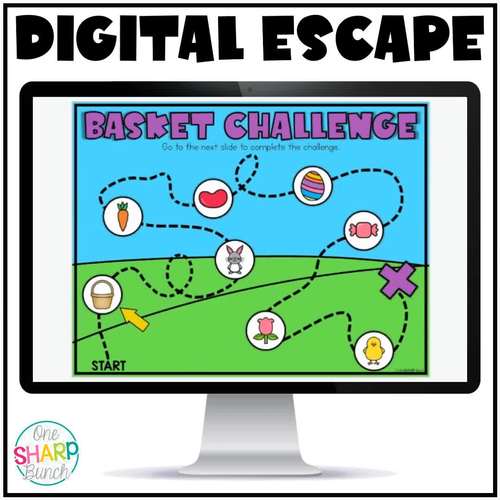 ;
Zip

Google Apps™
Includes Google Apps™
The Teacher-Author indicated this resource includes assets from Google Workspace (e.g. docs, slides, etc.).
What educators are saying
Fun activity to use during those last few days before break. It kept the students interested and engaged.
We love these activities! Fingers crossed the digital versions become printable so we can make a who dunnit poster to hang with the others!
Description
Celebrate Easter, as you review math and literacy skills, with this Easter Digital Escape Room! Your students will be highly engaged as they complete 8 different challenges to help the Easter Bunny find his lost eggs and discover who took them away from him!
After they complete a challenge, they will move further along the bunny trail and closer to the egg snatcher. A secret word will be uncovered after each challenge. Once all 8 challenges have been completed, these words will form a sentence to reveal who has taken the eggs!
There are 4 math and 4 literacy challenges included in PowerPoint, Google Slides and Seesaw.
These digital Easter activities are no prep, so they can be completed during remote instruction, as well as in-person learning. Choose to use the digital escape room for whole or small group instruction, or assign it as an independent activity.
Save time and make Easter a memorable (and learning-filled) celebration with these virtual Easter activities!
A note from the bunny reads:
I'm the Easter Bunny.
Yes, it's true.
And I have a little game,
Just for you!
My eggs are lost,
And cannot be found!
I left them sitting,
On the ground.
Follow the trail,
And you will see,
Just who took my eggs,
Away from me!
1. Basket Challenge - Count the syllables for each picture, and drag it to the correct basket.
2. Bunny Challenge - Drag the correct number of carrots to the bunny to solve the problem. Type the answer.
3. Carrot Challenge - Listen for the beginning blend (sk, sp, sw), and drag each picture to the correct carrot. OR Listen for the beginning sound (b, h, r), and drag each picture to the correct carrot.
4. Jelly Bean Challenge - Say the pattern. Then, drag the jelly beans to finish each pattern.
5. Egg Challenge - Drag the correct middle sound to each word to figure out what is hiding inside each egg.
6. Candy Challenge - Drag the candies to the ten frame to make 10. Then, finish the number sentence. OR Drag the candies to the ten frame to show the problem. Then, type the answer.
7. Flower Challenge - Listen for the word family (ag, am, at), and drag the picture to the correct flower. OR Listen for the rhyming word, and drag the picture to the correct flower.
8. Chick Challenge - Drag the eggs to measure each chick, count how many and type the number.
Thank you for visiting my store! If you purchase this product, please remember to leave feedback so you can earn your free TpT credits, which are redeemable on future purchases!
Don't forget to follow my store for updates and fun FREEBIES!
Enjoy and happy teaching!
Stay connected! Visit my blog, Facebook page, and Instagram account!
Report this resource to TPT
Standards
to see state-specific standards (only available in the US).
Understand the relationship between numbers and quantities; connect counting to cardinality.
Directly compare two objects with a measurable attribute in common, to see which object has "more of"/"less of" the attribute, and describe the difference. For example, directly compare the heights of two children and describe one child as taller/shorter.
Order three objects by length; compare the lengths of two objects indirectly by using a third object.
Express the length of an object as a whole number of length units, by laying multiple copies of a shorter object (the length unit) end to end; understand that the length measurement of an object is the number of same-size length units that span it with no gaps or overlaps.
Represent addition and subtraction with objects, fingers, mental images, drawings, sounds (e.g., claps), acting out situations, verbal explanations, expressions, or equations.