Virtual FIELD DAY - Google Slides - Digital Indoor Field Day - THEME DAY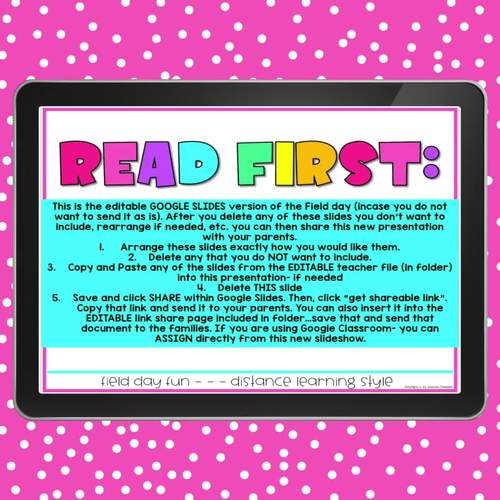 ;
What educators are saying
I used this to give my virtual students options while working from home. Easy to use and very well thought out!
Our field day was canceled and I was so pumped when I found this resource! My students loved it and said it was the best at-home field day ever!
Also included in
ULTIMATE digital distance learning bundle! This is a mega bundle with my GO TO, have to have digital resources! Contains all of my digital resources that I couldn't live without. This bundle is AS IS and is NOT a growing bundle. Perfect for making your life so much easier with remote teaching, jazzi

Price $104.00

Original Price $205.50

Save $101.50
Description
An ENTIRE DAY of virtual field day activities! Perfect for distance learning, a virtual academy, or a unique end of year activity day.  NO PREP- no out of the box materials needed! Super easy to implement. Click and go for the whole day! Built in water and lunch breaks. Think rain might ruin your field day? Indoor activities are included, so you can still have a day full of fun! 
⭐️  BUNDLE & SAVE ⭐️
This virtual field day is a part of the Virtual Learning Bundle. Save over 35% with this digital starter pack!
A mix of physical activities, mindfulness, calm downs, games, STEM, and more! Great for the entire family- activities for ALL ages! The activities were designed to work in all types of learning environments and are great for at-home, remote, hybrid, or in-person learning. There are activities to utilize for a whole school day. If your students are completing this at home directions for parents are included. 
⭐️ 
Field Day Implementation Ideas
PDF to send directly to parents with Google Slides link
Prep List
Suggested Event Line Up 
Warm up- YOGA
Get Movin- Guided Dance
Kids Workout- Guided with Instructor
Calm Down Activity
Poppin' Bubbles- Game
Meatball Run- Game
Freeze Dance- Game
Rollercoaster- Cool Down
Popsicle Time- Directed Drawing
Lunch Break
Would You Rather- Video
Playful Poses- Workout
10 Field Day Minute Challenges with Video Timers- Ex. how many jumping jacks can you do in a minute?
2 Field Day Outdoor Choice Board
Field Day STEM- Being an Obstacle Course- video intro, design slide, material slide, and more
Obstacle Course Photo Share Templates
Closing Thoughts- Be Amazing
Field Day Reflections- 5 included- Fill in
Congrats Certificate
Title Page
Zoom Meet Template
Zoom Fun Template
Congrats Certificates
Field Day Title Page with Space for Typing
Google Meet Template
Google Fun Template
Directions on how to differentiate to meet your specific needs, and how to change it to work for you if you want to do fewer activities, in a different order, etc. Some slides are editable, but all/any slides can be rearranged/deleted
You need to have access to Google Slides and YouTube. All videos are linked from the slides, so all they have to do is click play! 
SUGGESTION: If your parents or kids don't have a Google account. Make a class one yourself and share login info for them to use.
IF AN ENTIRE SCHOOL WANTS TO DO THE EVENT- The first license must be purchased at full price via this listing and then one additional license per grade level in the school. So it if it a K-3 school you would need to purchase 1 + 3 additional licenses (this can be done at checkout). If you are purchasing for an entire district- please email me directly for a quote prior to purchasing. My email is AmandaThompsonsTeachings@gmail.com. Thank you!
DISCLAIMER: The videos included in this document are links from YouTube. The videos included are LINKED and therefore still give all credit and views to the original creator of each video. They are not embedded and therefore NOT taking anything away from original creators- the original artists ARE still getting the views and exposure since they are linked and watched on YouTube. The videos themselves have been reviewed and only contain child appropriate material. Any ads, banners, and/or videos that play if you click out of this slideshow are NOT controlled by the person posting or the creator of this document. All videos should be watched with adult supervision. Thank you!
_______________________________________
You may also like…
→ Morning Meeting Games MEGA Pack
_______________________________________
Connect With Me
Thompson's Teachings on Instagram
___________________________________
Copyright © Thompson's Teaching
Permission to copy for single classroom use only.
Please purchase additional licenses if you intend to share this product.
Report this resource to TPT