Virtual Music Classroom Templates Editable Google Slides for Google Slides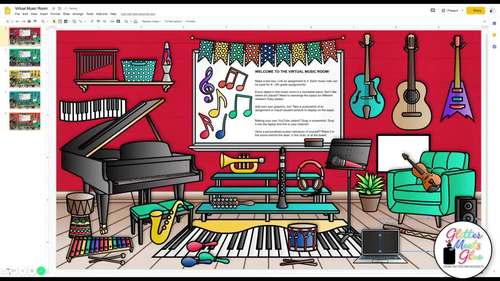 ;
PDF

Google Apps™
Includes Google Apps™
The Teacher-Author indicated this resource includes assets from Google Workspace (e.g. docs, slides, etc.).
What educators are saying
Always trying to mix up my visuals during virtual learning, and these different templates are a welcome addition. Thank you.
So adorable - love the music room! There aren't many resources out there for us music teachers so thanks!
Description
Need to design a digital virtual music room quickly? Whether you teach at an online school or you're out of the building due to inclement weather, natural disaster, or pandemic, school must go on. Don't spend all day designing your own when you can be up and ready in an instant. These virtual music classroom templates make it quick and easy. Simply arrange your space, save your slide, insert it into a new Google Slides document, and make your clickable links. That's it!
NOTE: For personal, classroom use only. Not for commercial use.
All of the hand-drawn graphics inside each of the five background slides are fully moveable and customizable. Make different interactive music rooms for each of your grade levels. Link to assignments using images and text. Design your room with your personality in mind. Have a Bitmoji®? Your digital room can be turned into a virtual classroom Bitmoji style! Use the Chrome extension to locate your personalized character, drag it to your desktop, and add it to your slide. I know your students will love seeing your character dance. 
I designed this resource with music teachers in mind. I've included graphics of percussion, string, brass, and woodwind instruments like a djembe, violin, trumpet, and clarinet. I designed every music teacher's favorite piano rug along with a modern chair to accompany it. And I've added risers for choral teachers. And yes, all of these elements can move, too! 
Organize your music distance learning plans into one digital space and have them ready to go. Schools will likely start requiring teachers not only have sub plans but plans in place for at home learning. Feel prepared and ready to go.
WHY DESIGN A DIGITAL CLASSROOM?
There are many challenges with distance learning, one of which is the lack of warmth and connection students feel in a remote environment. Whether you're teaching in-person, assigning things via Google Classroom, or sending home packets, not being with students can feel rather impersonal.
Creating your own music room away from school is one way to engage learners (and hopefully lure more into completing assignments!) What student wouldn't be excited to see what you have planned for them this week when the materials are presented in a unique and inviting way?
Use these virtual music room templates to design your own space, link to assignments, and show off your personality. Move objects around within the space for different classes or weekly assignments. Add your own graphics, too! Take screenshots of assignments or import students classwork, classroom posters, or anything else that would make it feel more your own. If you're creating online video content, take a screenshot of the video and overlap it on the laptop. And lastly, if you have a personalized avatar character, add that in, too.
WHY USE GOOGLE SLIDES FOR A VIRTUAL CLASSROOM?
FAMILIARITY: A lot of the features of Google Slides are similar to PowerPoint and will get your room up super quick. No need to edit a PowerPoint and figure out how to upload it to Slides.
USER-FRIENDLY: You are likely already familiar with storing files in Google Drive.
INSANT SAVE AS: All changes in Google Slides are instantly saved in Google Drive. Ever accidentally close down an app or other online software and changes weren't saved? Eliminate the frustration and disappointment of lost presentations!
ACCESSIBILITY: Parents, students, and admins can use an iPad, desktop or laptop computer, and even a Chrome book to access your virtual music classroom to view assignments.
SHAREABILITY: Simply share your digital classroom the same way you've been sharing assignments with students via Google Drive or Google Classroom.
TEACHER DIRECTIONS
The download contains a four-page PDF with directions on how to access the virtual music classroom templates. I've included step-by-step picture directions for some basics including inserting and resizing images as well as how to flip an image. I think it's important that you understand how to use some of the basic of Google Slides so you can be successful.
But I've gone a step further in outlining the order of operations in curating your space. How to import images, add video screenshots, add text boxes and images, and how to link to external content are all included. I think all of this will help you get your space up quickly and the way you want it.
And this document comes ready to go in Google Drive, so don't worry about trying to figure out how to import it into your Drive!
YOU WILL RECEIVE
1 Non-Editable PDF (Teacher directions with step-by-step pictures on how to use some of the features on Google Slides
Google Drive Access Link (A link to download the virtual music classroom templates located on page 3 of the PDF.)
5 Background Slides - The wall and floor graphics are not editable. They have been inserted into the background of the slide and are fixed in place.
Moveable Objects – Every object within the space is moveable. All graphics are saved in low-resolution which will appear great on screen but are not meant for print. (DISCLAIMER: the graphics used in this file may not be used to create commercial resources)
Each template page is designed in widescreen 16:9 format so it will fill the screen. As such, they are not meant to print out on 8.5×11″ paper.
FREQUENTLY ASKED QUESTIONS
Does this work in Schoology, Microsoft Teams, Seesaw, and Canvas? Yes! Anything created in Google Slides can be shared with students. I give directions on the last page of the PDF.
Do students need their own Google account to use this? No. Because of the method I show you, students will receive an interactive web link they can see regardless if they have their own Google account.
Can I use these virtual music classroom templates in PowerPoint?Absolutely. Anything made in Google Slides can be downloaded into PowerPoint. First, open the file in Slides. Then, go to FILE >> DOWNLOAD >> MICROSOFT POWERPOINT.
Can I add my own links to Google Docs, Slides, Sheets, etc.? Yes! As a result, I've included step-by-step picture instructions on how to use all the basics of Google Slides so you can feel successful using and sharing it with your students.
Can I add/remove graphics/slides from the deck? You sure can! I recommend crafting this resource to fit your own needs. Some teachers are even adding their own Bitmoji to them.
Do I need to buy a download for each student? No. But you do need to purchase a license for each adult who will use it in your school. 
I downloaded your PDF, but I can't figure out where to access the Google Slides document. Click the link with the pointing arrow on Page 3.
How do I get the virtual music classroom templates to show up in my school Google account if I accidentally opened it in my personal account? Very easy. First, log out of your personal account. Then, log into your school Google account. Lastly, click on the link in the PDF and it will show up in your Drive.
YOU MAY ALSO LIKE
TERMS OF USE
In downloading this teacher resource, you agree that you are purchasing a single user license for personal classroom only and does not give you copyright. All teaching materials sold by Glitter Meets Glue may not be adapted, re-sold, distributed, or translated into any other language for re-sale. You may not remove the graphic credit in any of our teaching materials.
ADDITIONAL LICENSES
Would you also like to purchase a license so your colleagues may use this product, too? I offer a 10% off discount on all additional copies. Please use the honor system here as you would in your own classroom.
Created by Amie Bentley, © Glitter Meets Glue Designs, LLC
Answer Key
Does not apply
Teaching Duration
Lifelong tool
Report this resource to TPT