Visual Literacy Lesson - The OPTIC Strategy for Visual Analysis - Digital, Print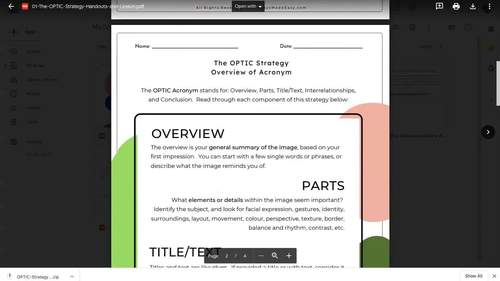 ;
8

th

- 12

th
,
Higher Education
Zip

Google Apps™
33 Pages, 4 Google Slides® Files
Includes Google Apps™
The Teacher-Author indicated this resource includes assets from Google Workspace (e.g. docs, slides, etc.).
Also included in
This AP Lang and Comp Bundle includes slideshow lessons and writing activities for teaching the synthesis essay, argumentative writing, rhetorical analysis, expository texts, and more. Included in this resource are several tasks, collaborative activities, projects and assessments to prepare student

Price $102.35

Original Price $145.30

Save $42.95
Description
In the digital age, visual literacy is more important than ever.  This lesson includes informational handouts, graphic organizers, and visual images to teach visual analysis using the OPTIC strategy - a technique for interpreting any visual text.  Suitable for online learning with digital worksheets for Google Classroom®!
Included with this Visual Literacy Lesson:
✏️ The OPTIC Strategy Informational Handouts - Digital & Print
Teach the OPTIC acronym
Guide students through an example using the abstract visual image provided
✏️ The OPTIC Strategy Worksheets - Digital & Print
 Includes five abstract illustrations for analysis and interpretation
✏️ Visual Text Gallery Walk Activity - Digital & Print
Explore the artwork of three diverse artists
Interpret visual images using the graphic organizers provided
✏️ Blank OPTIC Strategy Graphic Organizer - Digital & Print
✏️ Teacher Instructions for using this resource
How to use this Visual Literacy Lesson for The OPTIC Strategy:
This visual literacy lesson will teach visual analysis and equip students with the necessary skills to analyze and interpret persuasive advertisements, paintings, illustrations, comic books, photographs, and more. 
You can begin this lesson with the OPTIC Strategy Informational Handouts.  These handouts provide an overview of each letter of the OPTIC acronym. To model visual analysis, an abstract illustration has also been provided; this example can be used to demonstrate how to apply the OPTIC strategy.  A graphic organizer has been provided for this example.
Students can then practice visual analysis using the OPTIC Strategy worksheets.  There are five additional illustrations with these worksheets. You can either assign all of these worksheets to each student or divide students into groups and assign each group an image. I also enjoy creating a station for each image to create an interactive gallery walk. These images are open to interpretation, which makes it an incredibly engaging lesson to consolidate once students have finished their interpretations.
There are also three virtual gallery walks featuring three diverse artists. Each artist demonstrates a unique style of artistry, and each virtual gallery walk features an OPTIC graphic organizer worksheet and hyperlink to a webpage featuring their work. You can assign each artist to every student, or have each student select their favourite artist to interpret.
If you teach AP Language and Composition, this visual literacy lesson is a great way to prepare students for the synthesis portion of the AP Exam.
⭒ For classrooms utilizing Google Classroom® ⭒
To access the digital version of these worksheets, simply follow the instructions within the resource to copy the files directly to your Google Drive®.
☞ See what others are saying!
⭐️⭐️⭐️⭐️⭐️
Extremely Satisfied
"The different options for gallery walks were appealing to the vast cultures within my classroom.  I really enjoyed that there were different options to demonstrate a myriad of styles.  This lesson was a great way to switch up our approach in the classroom (my students are English Language Learners in an International School and they can only handle so much reading in English each week!) They responded super well to this!" - Georgina A.
⭐️⭐️⭐️⭐️⭐️
Extremely Satisfied
"My students loved completing the Gallery Walk for OPTIC. They found it easy to navigate and beneficial to their understanding of OPTIC in preparation for their national exam AND future study of visual rhetoric. Highly recommended!" - Jason A.
⭐️⭐️⭐️⭐️⭐️
Extremely Satisfied
"Thank you for putting this together! It was a real time saver when we moved to distance learning." - Leah M.
✨ Kindly note that due to copyright restrictions, this resource is not editable.  This is a common practice within the TPT marketplace in order to protect the clip artists and software providers that have authorized their intellectual property for the development of this resource.
You might also be interested in Mondays Made Easy's Digital Resources.

➖➖➖➖➖➖➖➖➖➖➖➖➖➖➖➖➖➖➖➖➖➖➖➖➖➖➖➖➖➖
⭐ Customer Tip! ⭐
Want FREE CREDIT to go towards purchases?  Make sure to offer feedback for your downloads! Follow these instructions below:
Go to your "My Purchases" page to find a "Provide Feedback" button next to each download.
Follow this link to offer a quick rating and leave a short comment for the product. Each time you give feedback, TPT gives you feedback credits that you use to lower the cost of your future purchases!
Your feedback is important to me as it helps me to continually improve my products and ensure they are meeting your needs!
Follow me! Be the first to know about product launches, sales, discounts, and free giveaways:
➾ Facebook
➾ The Blog

For questions, collaborations, or other concerns:
✉ Contact me: hello@mondaysmadeeasy.com
Access my Free Resource Library!
➖➖➖➖➖➖➖➖➖➖➖➖➖➖➖➖➖➖➖➖➖➖➖➖➖➖➖➖➖➖
Mondays Made Easy is committed to the continual improvement of resources to meet the current needs of teachers. This product was last updated on August 11, 2020.
Total Pages
33 Pages, 4 Google Slides® Files
Report this resource to TPT
Standards
to see state-specific standards (only available in the US).
Determine a central idea of a text and how it is conveyed through particular details; provide a summary of the text distinct from personal opinions or judgments.
Determine an author's point of view or purpose in a text and explain how it is conveyed in the text.
Analyze the structure an author uses to organize a text, including how the major sections contribute to the whole and to the development of the ideas.
Determine an author's point of view or purpose in a text and analyze how the author distinguishes his or her position from that of others.
Determine a central idea of a text and analyze its development over the course of the text, including its relationship to supporting ideas; provide an objective summary of the text.