Visual Schedules | Color Coded Visual Schedule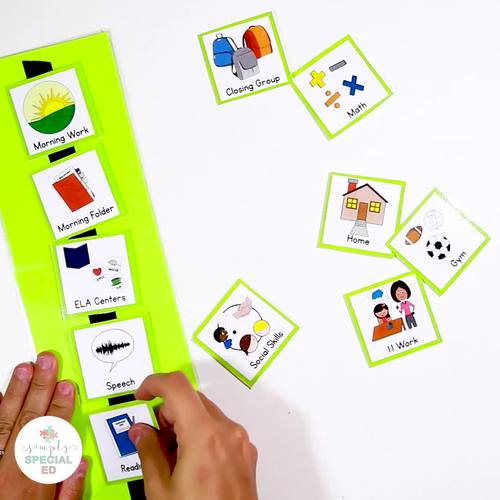 ;
What educators are saying
This has helped me so much with my special needs students. My students know they have a schedule and they love moving the icons over as we complete the tasks.
I used this for a student that struggles to make it through the day and she gets overwhelmed/frustrated. This has helped her a lot.
Also included in
All the visuals you need to get started in your special education classroom! The Big Set of Special Education Visuals includes 10 amazing resources to jump-start your visuals library. WHAT RESOURCES ARE INCLUDED?1. Simple Visual Schedules: EDITABLE Schedule Pieces for Special Education2. Simple Sche

Price $35.00

Original Price $40.50

Save $5.50

Created with new special education teachers in mind. This bundle is made up of 8 classroom setup resources that will set you up for success with EASE this new school year. These resources will start your year on the right foot! Perfect for those new to special education or those who would like to b

Price $70.00

Original Price $91.25

Save $21.25

Digital, Editable, and Printable! This visual bundle has everything you need to support your students this year! Over 2,000 EDITABLE schedule pieces, print and digital schedule boards and token boards!WHAT'S INCLUDED?- Simple Visual Schedules: EDITABLE Schedule Pieces for Special Education- Simple S

Price $16.00

Original Price $19.50

Save $3.50
Description
"This is the BEST visual schedule resource I have found by far! Highly recommend!"
157 visual schedule pieces in 13 border colors for self-contained and special education classrooms. Build your student schedules with these symbol support visual pieces. Keep your students on track with uniform, color coded, individual student schedules, work center schedules, and whole group interactive schedules.
WHAT'S INCLUDED?
+ 157 visual schedule pieces in each color
+ in 13 colors (OVER 2,000 pieces in all!)
+ Whole group interactive schedule (2 fonts included)
+ Work Center Schedules
WHAT COLORS ARE INCLUDED?
+ Colors included (black, light blue, orange, lime green, purple, yellow, red, pink, blue, green, light purple, seafoam green, gray)
+ Because of so many colors being included, you are able to easily color code your caseload!
+ These colors match up with Astrobrights brand cardstock for the schedule strips.
WHAT TEACHERS ARE SAYING:
"This resource was a lifesaver. As a special education teacher of grades 2-4 with kiddos with moderate-intensive needs... schedules are so important. This pack has pretty much every schedule piece you would ever need. It is also broken up by colors so each student can have their own color schedule. Highly recommend this resource!"
- Lyndsey C.
"Love this! I've recently been moving towards a color coordinated classroom; and this made it SO much easier. No worries about needing colored paper, having to make my own, and have you seen the icon choices in this thing?! All I had to do was print, laminate, and go! I even sent some home with the kiddos to be used. Seriously life saver! No confusion, everyone gets and goes to their own schedule (which also helps us cut down on cross contamination and icky germs). The colors area great too, nice and vibrant!"
- Kaylin
"I used this resource as big individual visual schedules for my students and also for smaller schedules that they can carry with them!! I LOVE how many color options there are, and the option for them to be editable as well! Best visual schedule resource I have found by far! Highly recommend!"
- Bennett
"This schedule kit has every color coded schedule piece you will need! It is so versatile and works for individual, whole class, mini, center, and first/then schedules. We especially love the large schedule cards because the students are able to take the small schedule icon and velcro it to the large schedule card. Students are active rather than passive and they are reading without knowing it. Such an impressive resource!"
- Rainbow of Possibilities
HOW DOES IT WORK?
You must have access to Google Slides™ to use the editable function of this resource. Direct link included to copy + save to your Google drive which will allow you the ability to upload to your Google Classroom™
HOW DO YOU EDIT?
This resource includes editable schedules pieces! You can edit the word, add your own word, add your own picture, and use your own color in Google Slides™. Download directions includes information on how to edit.
CHECK OUT THE BUNDLE!
The Simple Visual Schedules Bundle includes digital and printable schedule boards and token boards! This is a great money saving option.
HOW DO YOU USE IT?
You can read all about making the visual schedule strips here.
You can read all about how to get started with visual schedules here!
WHERE CAN I SEE A PREVIEW?
Click the preview button to see more inside!
Check out a video preview here.
FIND ME HERE!
Report this resource to TPT