Visual Supports Interest Inventory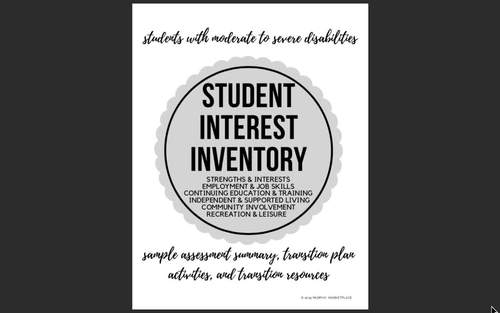 ;
9

th

- 12

th
,
Higher Education
,
Adult Education
What educators are saying
This resource was exactly what I was looking for. Then there was the extra bonus of the link to the career videos! That was even more exciting (and the product is really amazing anyway!)
The visuals on this survey were simple and easy to use. The students were able to use the visuals to help them decide what they wanted in life.
Description
This Student Interest Inventory is designed for students with moderate to severe disabilities, non-readers, and students who need pictoral text/picture symbols (Boardmaker, News 2 You, Proloquo2Go, etc.) to learn or communicate. This is an informal assessment to help you determine a student's strengths, preferences, and interests as part of Transition Planning and developing the Individual Transition Plan (ITP) part of the IEP.
This interest inventory covers the following Transition domains: strengths and interests, employment and job skills, continuing education and training, independent and supported living, community involvement, and recreation and leisure. Directions on how to give the assessment are included (teacher/staff can read the questions and use the pictures with each choice to help explain the concept, students can circle their answers, point, use an AAC device to answer yes/no, etc.)
A sample summary, goal ideas, activities, and Transition resource links provided.
KEYWORDS:
transition
special education
high school
secondary
sped
special ed
mod severe
intellectual disability
moderate severe
special day class
life skills class
boardmaker
picture supports
interest inventory
ITP
IEP
individual transition plan
modified transition assessment
informal transition assessment
sample transition goals
Report this resource to TPT