Vocabulary Activities Bundle | Print and Digital | Literacy Centers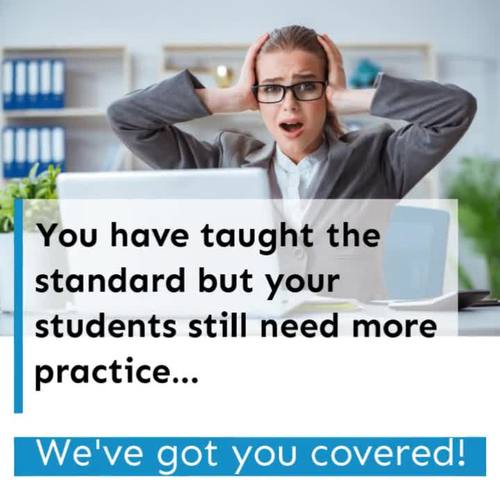 ;
Zip

Google Apps™
Includes Google Apps™
This bundle contains one or more resources with Google apps (e.g. docs, slides, etc.).
What educators are saying
This has been great for my struggling readers. I don't have the time to make vocabulary stuff and this is spot on
Products in this Bundle (8)
showing 1-5 of 8 products
Description
Are you teaching Reference Materials, Synonyms & Antonyms, Proverbs & Adages, Prefixes & Suffixes, Idioms, Context Clues, and Similes & Metaphors? Of course, you are!
$$$You save 30% when you purchase this bundle!$$$
Do your students need more practice with these standards? Of course, they do!
Here is a print and digital RESOURCE TREASURY of activities that will help you to reach your students through multiple modalities of learning!
You have officially found what your Language Arts block has been missing! We've all been there. You've taught the standard, but your students have still not mastered it. You're thinking to yourself… "What else am I going to do? They still don't get it!"
Here is where this Vocabulary Activity Bundle comes in to save the day! Even better… these activities are Print & Go!
About This Resource:
Note-taking Activity: Students fill in or create three columns with different tasks in each one. There are two options for this activity.
Sort Activity: Students sort sentences into Examples and Non-Examples. Differentiation is done through the use of partners.
Art Activity: Students create a visual for the concept and have a short writing piece.
Game Activity: Two options are provided with different levels of difficulty.
Close Read Activity: This is a teacher-led guided reading group center. There are tasks to complete with each read and another page that can be completed after the read!
Writing Activity: Students write using the given prompt. Two options are provided.
Direction Tents for each activity (PERFECT FOR CENTERS!)
Answer Keys/ Examples/ Samples
A digital version of all activities included
So Many Ways to Use!
•Extra Practice
•Small Groups
•Literacy Centers
•Intervention
•Early Finishers
•Spiral Review
•Homework
How to Use...
•These activities are meant to be used after the standard has been taught. The activities should be viewed as a follow-up and a way for students to further understand the topic. If you are looking for the step that comes before this, we have them available in our store! They are our "Week Long Lessons."
•Each activity is made so that it can be completed in 15-20 minutes. In our classrooms, we use these activities as literacy centers. We set a timer, such as online-stopwatch.com, and students rotate from center to center until they have completed all of the centers. Need a center rotation board? Jobs for your centers? Levels of understanding? Check out our Literacy Center Toolkit in our store!
•Maybe you don't have time for all 6 activities... That's ok! Pull 3 or 4 and complete the others at a later date! You can also have one available for early finishers!
•No matter how you use them, your students will be completely engaged while mastering the standard!
•Want to find out more about our Literacy Centers? We have blog posts explaining! Go to www.therigorousowl.com to learn more!
★★★★★★★★★★★★★★★★★★★★★★★★★★★★★★★★★★★★★★★★★★★★★★★★★★★★★★★★★★★★★★★★★★★
Need more Vocabulary resources?
Vocabulary Yearlong Lessons, Practice and Assessments (Print and Digital)
Vocabulary Activities Bundle (Print and Digital)
Vocabulary Poster Anchor Charts
We have what you need to teach and practice Grammar and Language too!
Grammar and Language Year Long Lessons, Practice, and Assessments(Print and Digital)
Grammar and Language Activities Bundle (Print and Digital)
Grammar and Language Task Cards
Digital Grammar and Language Task Cards
Grammar and Language Poster Anchor Charts
Need a way to organize your centers? Grab our Editable Literacy Center Toolkit:
Editable Literacy Centers Toolkit
----You can grab this Toolkit for free when you sign up for our newsletter at www.therigorousowl.com
If you have any questions, email us at: desandmichelle@therigorousowl.com
★★★★★★★★★★★★★★★★★★★★★★★★★★★★★★★★★★★★★★★★★★★★★★★★★★★★★★★★★★★★★★★★★★
BE SURE TO FOLLOW US BY CLICKING THE GREEN STAR ABOVE TO BE NOTIFIED WHEN WE POST A NEW PRODUCT! ALL OF OUR NEW PRODUCTS ARE 50% OFF FOR THE FIRST 48 HOURS!!!!
BE SURE TO LEAVE FEEDBACK TO RECEIVE TPT CREDIT TOWARDS YOUR NEXT PURCHASE!
Don't miss out on updates, freebies, and tons of fun!
This resource is intended for ONE CLASSROOM TEACHER to use. If you would like to share with your colleagues, please purchase an additional license. Thank you for respecting our hard work!
All rights reserved by the author.
Permission to copy for single classroom use only.
Electronic distribution is limited to single classroom use only. Not for public display.
Report this resource to TPT
Standards
to see state-specific standards (only available in the US).
Determine or clarify the meaning of unknown and multiple-meaning words and phrases based on grade 3 reading and content, choosing flexibly from a range of strategies.
Use sentence-level context as a clue to the meaning of a word or phrase.
Determine the meaning of the new word formed when a known affix is added to a known word (e.g., agreeable/disagreeable, comfortable/uncomfortable, care/careless, heat/preheat).
Use a known root word as a clue to the meaning of an unknown word with the same root (e.g., company, companion).
Use glossaries or beginning dictionaries, both print and digital, to determine or clarify the precise meaning of key words and phrases.