Vocabulary Activities for ANY Word List Context Clues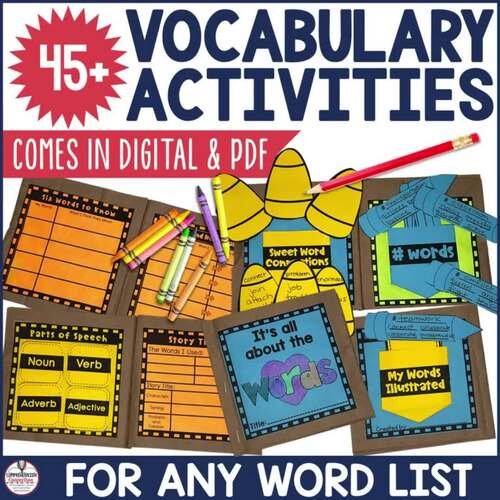 ;
Zip

Google Apps™
Includes Google Apps™
The Teacher-Author indicated this resource includes assets from Google Workspace (e.g. docs, slides, etc.).
Description
Having vocabulary activities at your finger tips is essential for teachers. We know that vocabulary development is critical to reading comprehension. With this one bundle, you have over 45 activities to choose in PDF AND in Digital for Google Slides from that are perfect for grades 2 through 5. You can use them all with ANY WORD LIST you have offering a great variety all year long. Print on bright paper for a polished look too.
HOW TEACHERS CAN INCLUDE THESE VOCABULARY ACTIVITIES WITH ANY LESSON:
The classroom teacher can pick and choose from the activities what best fits the lesson objectives. They work well with language arts lessons of course, but you can also use these in the content areas as well. I would suggest preselecting the Tier 2 words that you'll be addressing from the text and through class discussion, develop kid-friendly definitions. Additionally, kids need a minimum of 15 usage opportunities for words to "stick", so use discussion, usage in writing, posting to your WOW word wall or word of the day boards, and in no time, your students will truly know the words.
WHAT VOCABULARY SKILLS ARE ADDRESSED WITH THIS BUNDLE?
context clues
synonyms and antonyms
root words and derivations
using a dictionary
examples and non-examples
usage
and lots of writing
WHAT ACTIVITIES ARE INCLUDED IN THIS VOCABULARY ACTIVITIES BUNDLE?
Vocabulary planning page
Vocabulary paper bag book (all pieces can also be used in interactive notebooks)

word selection and kid-friendly definitions
examples/non-examples
sweet connections (synonyms or derivations)
hashtag it (categorizing words)
I spy activity and word clues
my words in context (story plan and writing page)
parts of speech sort
my words illustrated

Nine Graphic Organizers

spotlight on vocabulary
building word knowledge
words close to our heart
growing our word knowledge
quick write
four square vocabulary
diggin' into vocabulary
vocabulary anchored in meaning
Task Card Activities (can be glued in interactive notebooks and used more as an exit ticket, in a game format, or as homework). 12 activity options to choose from.
Bunko My Words Vocabulary Game
Personal Word Wall (staple to the four sides of a folder OR use it digitally
Interactive Notebook Options:

accordion book
vocabulary flipbook
inward doors

Vocabulary Lapbook

words illustrated
kid friendly definitions
connecting word pairs
synonym flower
word cards/cartoons
matchbox examples and non-examples
using my words to summarize my text (writing)
word wizards activity
grading rubric

Vocabulary Trifold (2 pages/One activity per day)
Vocabulary Discussion Cards for Teachers (classroom teaching ideas)
154 pages in all (1/2 PDF and 1/2 Digital for Google Slides TM)
MORE ABOUT THE BUNDLE:
Little prep time is required and the activities are easy to implement. Supplemental materials not included with the resource include: lunch sized paper bags, interactive notebooks, dice, file folders, scissors and glue.
HERE'S WHAT TEACHERS ARE SAYING ABOUT THIS RESOURCE:
⭐️⭐️⭐️⭐️⭐️ Ariane O....
"I've been having a really hard time trying to figure out how to integrate vocabulary with this whole distance learning, hybrid learning, blended learn juggling act. This is like the answer to my prayers! Simple, effective, straightforward- every teacher's dream come true. Thank you so much!"
⭐️⭐️⭐️⭐️⭐️ Jennifer L....
"I used this to provide vocabulary practice to my students during virtual learning. I was able to recreate our classroom "choice boards" for language arts by incorporating these activities. Well-done!"
⭐️⭐️⭐️⭐️⭐️ Charis Andrews (TpT Seller)...
"Love how versatile this product is because you really can use these resources for *any* vocabulary words you want! My second graders learned so much about vocabulary from books we were reading thanks to these activities and organizers."
⭐️⭐️⭐️⭐️⭐️ Tracy C....
"This is a good resource to spice up vocabulary instruction and increase engagement."
OTHER WORD BUILDING RESOURCES YOU MIGHT BE INTERESTED IN:
Copyright © Comprehension Connection.
Permission to copy for single classroom use only.
Please purchase additional licenses if you intend to share this product.
© Google and the Google Apps are registered trademarks of Google Inc.
Teaching Duration
Lifelong tool
Report this resource to TPT
Standards
to see state-specific standards (only available in the US).
Determine or clarify the meaning of unknown and multiple-meaning words and phrases by using context clues, analyzing meaningful word parts, and consulting general and specialized reference materials, as appropriate.
Demonstrate understanding of figurative language, word relationships, and nuances in word meanings.
Acquire and use accurately a range of general academic and domain-specific words and phrases sufficient for reading, writing, speaking, and listening at the college and career readiness level; demonstrate independence in gathering vocabulary knowledge when encountering an unknown term important to comprehension or expression.