WH Question Flip Cards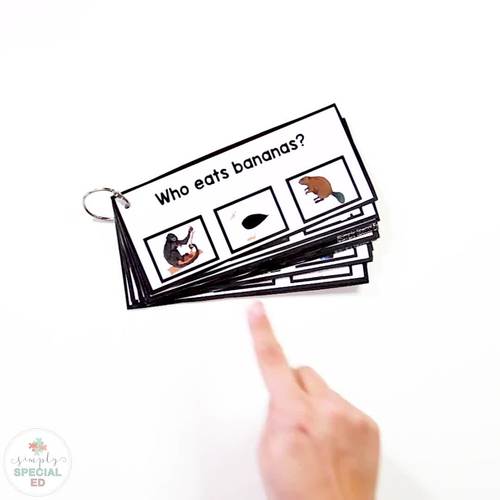 ;
423 flip cards, 147 pages
What educators are saying
This is an excellent resource for teaching students to answer questions. It can be used in small group, 1:1, and at independent centers as well.
I love this product! It is great to use with my ELL students who just need a little bit more practice and understanding the different WH questions. THANK YOU!
Also included in
This bundle includes 5 WH question resources for the special education classroom. If you have students with WH goals, this bundle will give you a variety of ways to work on WH questions including flip cards, dry erase books, and digital activities.RESOURCES INCLUDED:+ Simple Dry Erase: WH Questions+

Price $30.00

Original Price $39.00

Save $9.00

WH Question Flip Cards and Digital Interactive Flip Cards for Special EducationThis is a bundle of the WH QUESTION FLIP CARDS (printable) and DIGITAL WH QUESTIONS (Interactive PDF) and BOOM CARDS (INTERACTIVE APP)Please see the previews for each resource included. The descriptions are below.________

Price $12.00

Original Price $15.00

Save $3.00
Description
Targeting WH questions is easier than ever with these bestselling WH question flip cards. This set includes over in to get your special education students working on simple WH questions!
WHAT ARE THE LEVELS?
- picture
- picture and word
- just word
WHAT'S INCLUDED?
- What
- Who
- When
- Where
- Why
TEACHER REVIEWS
"This is such a great, resource! It makes on-the-go therapy a breeze, and I love having so many functional WH-questions ! " - April
"These cards come with picture answers, picture with words, or just words. I like how there are questions also include basic knowledge questions about calendar skills and environmental questions. These are for time in the hallways or time waiting for something to start." - Jennifer
" I appreciate how. I have used this with my Pre-K-1st grade language students. I appreciate the field of 3 pictures." - Darah
"These flash cards have helped my students . They are engaging and I absolutely love that there are multiple levels. It is easy for myself or one of my paras to grab the level that each specific student is working on in order to quickly work with them." - Marina
HOW DO YOU PREP THEM?
These are SO easy to prep! Just laminate, cut, add a binder ring and you are ready to go! Perfect for SLPs, early childhood, home services, autism classrooms, and more!
WHERE CAN I PREVIEW THIS RESOURCE?
You can see the preview by clicking on PREVIEW at the top of this page.
You can see a video preview here.
INTERESTED IN THE BUNDLE?
Download the WH question bundle here.
WANT MORE FLIP BOOKS?
Total Pages
423 flip cards, 147 pages
Report this resource to TPT