Walkout Movie Guide in Spanish and Hispanic Influence Unit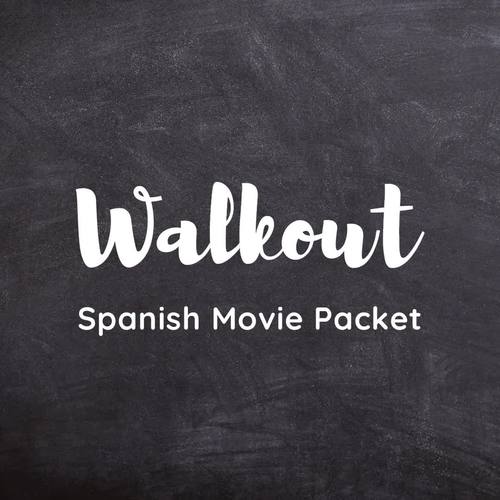 ;
9

th

- 12

th
,
Higher Education
,
Adult Education
What educators are saying
This was a very helpful resource to use with the movie Walkout. I appreciated all of the activities included. My students really loved the crossword puzzles in Spanish!
Also included in
This Spanish Hispanic Heritage Month BUNDLE features a digital daily calendar with both Power Point and Google Slides Presentations included. Also included are videos with activities, articles & readings with comprehension questions about El Mes de la Hispanidad, several worksheets, two movie u

Price $39.17

Original Price $48.96

Save $9.79
Description
This 83 page EDITABLE Spanish movie guide includes vocabulary, crosswords, speaking and listening activities, cultural information, extension activities, writing activities, comprehension questions, and more to teach students about the excellent movie, Walkout. Walkout depicts the struggles and discrimination faced by Hispanic and Chicano students during the 1960's and is a truly inspiring movie that students will love. This complete movie unit also includes a cultural unit about the Hispanic Influence in the United States with information about César Chávez and other famous Hispanics. This movie guide is perfect for Hispanic Heritage month and to complement a unit on hispanohablantes famosos. Perfect for social justice unit!
peace, discrimination, Hispanic heroes, Hispanic Heritage month, poverty, rights, strike, education, activism, Justicia Social. Desafíos Mundiales, Soluciones, Paz, héroes latinos, Hispanic Heritage Month, Herencia Hispana, discriminación, pobreza, derechos, activismo
***This movie guide lends itself to important lessons and class discussions that compare today's society with the civil rights issues and civil unrest of César Chávez's era. Issues such as workers' rights, racial discrimination, the right to quality education, the right to celebrate one's own culture and language, and fighting for important causes are all present in this movie and guide. (Movie sold separately)
This Spanish movie packet includes:
LA INFORMACION PARA LA PELICULA, WALKOUT
*Common Conversation Expressions Vocabulary in Spanish only and in Spanish/English
*Cesar Chavez, Grape Boycott, Chicanos, La Raza, Los Boinas Cafes, and East Los Angeles Walkouts Information
*"Oracion del Campesino en la Lucha" by Cesar Chavez
*"Yo Soy Joaquin" Poem by Rodolfo "Corky" Gonzales in Spanish and in English
*Heroes of the Walkout Organizers
*Education in the United States Statistics
*Hispanics in the U.S. Armed Forces Statistics
*Hispanic Influence in the United States Information in Spanish and in English with Comprehension Questions
(Visit http://www.sparkenthusiasm.com/hispanic_influence_usa.html
for the FREE Hispanic Influence in the United States Power Point Presentation that corresponds to these notes!)
EL VOCABULARIO EN ESPANOL PARA WALKOUT
*Movie vocabulary in Spanish (Goes in the same order as the movie)
EL VOCABULARIO EN ESPANOL Y EN INGLES PARA WALKOUT
*Movie vocabulary in Spanish and in English
LOS CRUCIGRAMAS PARA WALKOUT
*Five crossword puzzles that correspond to each page of the vocabulary (From the Spanish and English version)
*Keys for all crossword puzzles
LAS ACTIVIDADES DE COMPRENSION
*Comprehension questions in Spanish that follow the sequence of the video (Present Tense Version, Past Tense Version, and English Version of Questions)
*True/False Quiz
*Current Professions of the original walkout organizers
*Answer key for comprehension questions, True/False Quiz, and walkout organizers activity
LAS ACTIVIDADES ESCRITAS
*Summary of the movie writing activity
*New Ending Writing Activity
*Blank fill-in movie information sheet
*Journals (six different writing prompts)
LAS ACTIVIDADES DE ESCUCHAR
*Which movie character is being described? Listening comprehension activity
*Three song activities ("Mexico-Americano" by Los Fabulocos, "Manana Es Para Siempre" by Alejandro Fernandez, and "Amor Prohibido" by Selena)
LAS ACTIVIDADES DE EXTENSION
*Four activities for teachers to extend their students' thinking after watching the movie, Walkout
ALL of our movie packets with tons of resources are here! ALL sparkenthusiasm movie guides
To see ALL of our sparkenthusiasm best seller products, please visit
Visit our Spanish-speaking countries and culture section on our website!
Spark Enthusiasm Spanish Grammar, Vocabulary and AP resources
Please follow us on Pinterest for excellent ideas and resources!
Visit our Spark Enthusiasm Spanish Store for additional high quality ideas and products for your Spanish classes.
Report this resource to TPT