Watercolor Galaxy Theme Teacher Toolbox Labels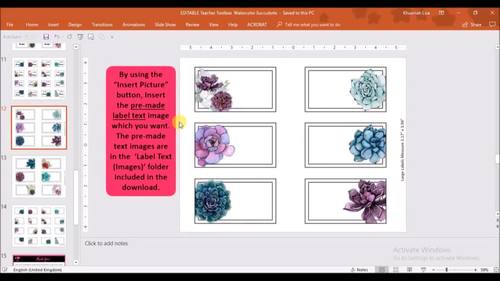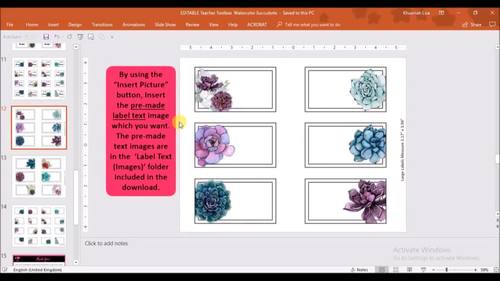 Created By
Teacher Mama School
Also included in:
Perfect for a space-themed classroom. HUGE BUNDLE of classroom décor items with stunning galactical watercolors and images that fit even the classrooms in the middle and upper grades. Please read carefully and click on the PREVIEW and LINKS in the description below before purchasing. This product re
Product Description
Editable Teacher Toolbox Labels in a stunning watercolor galaxy theme. Just great for your classroom organization needs! Create your own labels by using the EDITABLE PowerPoint presentation.

These labels would fit the following toolboxes:
❤ Stack-On DS-22 22 Drawer Storage Cabinet

Includes a PowerPoint file with
❤ 12 large drawer label designs (2.17" x 3.94")
❤ 16 small drawer label designs (1.85" x 1.28")
❤ 36 pre-made large labels (ready to be printed)
❤ 36 pre-made small labels (ready to be printed)
❤ Editable text-boxes for you to type in

PLUS a folder with
❤ 36 pre-made large label text images*
❤ 36 pre-made small label text images*

*CHECK OUT THE VIDEO PREVIEW ABOVE or on our YouTube channel HERE
to see how this would be great for you if you prefer to select only specific label designs and texts, while still keeping to the fonts used in this pack! Great for saving paper and ink. (Please take note that the video preview is for illustration purposes only. The theme of the set of toolbox labels shown is a different one from the one in this pack.)
❤❤ If you would like to request for specific labels, please drop us a Q&A or an email at email@teachermamamschool.com BEFORE purchasing. While we can't guarantee that every label request will be accommodated, we always do our best to accommodate them! : )❤❤
The following 36 pre-made labels are included:
✮ binder clips
✮ sticky notes
✮ staple remover
✮ highlighter
✮ stapler
✮ permanent markers
✮ index cards
✮ extra pencils
✮ tape rolls
✮ extra pegs
✮ glue sticks
✮ paper clips
✮ white out
✮ push pins
✮ book rings
✮ band aids
✮ washi tapes
✮ extra staples
✮ brass fasteners
✮ large erasers
✮ small erasers
✮ small magnets
✮ large magnets
✮ hole puncher
✮ scissors
✮ sticky tack
✮ pens
✮ velcro
✮ stickers
✮ rubber bands
✮ command hooks
✮ crayons
✮ markers
✮ coloring pencils
✮ dry erase pens
✮ misc items
Please read carefully and click on the PREVIEW before purchasing. This product requires the use of PowerPoint, using your own installed fonts. If you would like to use the same fonts that I used, you will need to purchase your own license to use them. Only the text fields are editable and NOT the graphics.

The fonts used in this pack are

❤ Shania ❤ You may purchase it HERE
❤ Audrey ❤ You may download it for FREE HERE
✮✮✮✮✮✮✮✮✮✮✮✮✮✮✮✮✮✮✮✮✮✮✮✮✮✮✮✮✮✮✮✮✮✮✮✮✮✮✮✮✮✮✮✮✮
This item is part of the following BUNDLE:

❤ Watercolor Classroom Decor - Galaxy Space Theme ❤
Other classroom organization items you may like:

❤ Sterilite Drawer Labels | Toolbox Labels | Rolling Cart Labels ❤
✮✮✮✮✮✮✮✮✮✮✮✮✮✮✮✮✮✮✮✮✮✮✮✮✮✮✮✮✮✮✮✮✮✮✮
Please remember to leave your feedback. It would be very much appreciated and you will also receive a credit bonus from TPT to use towards future purchases!
Should you encounter any issues, kindly e-mail us at email@teachermamaschool.com and we will try our best to work it out with you. :-)
Thank you!
✿ Teacher Mama School ✿
http://www.teachermamaschool.com
❤
Follow us on Facebook
❤
❤
Follow us on Instagram
❤
Report this Resource to TpT