"We Are All Connected" All About Me Tessellation | Back to School Team Building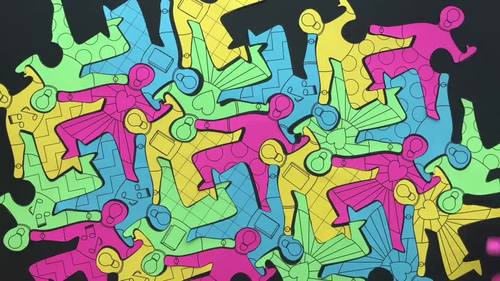 ;
What educators are saying
My students loved this. My administrators love how it decorates the hallway and represents our students. It was a great relationship builder.
My students like art, and they loved working on their individual pieces. When they watched me put them together, it was "one of those moments." We are certainly coming together nicely as a family!
Also included in
This is a BUNDLE of eight of my popular Back to School activities and is designed to make art integration easy for classroom teachers while setting the classroom tone for the upcoming year! Great group activities for collaboration at the beginning of the year, plus math review coloring sheets, inspi

Price $27.99

Original Price $45.22

Save $17.23
Description
This project is the perfect "All About Me" community-building activity for your class. It connects the individual with the group using tessellations and has a ton of "wow factor" when complete because it is so original.
It's fun for kids and easy for you as the teacher. I've done everything possible to make this a successful project–I've even included a teaching video.
This resource now has the tessellation pages and the banner in English, Spanish and French (no price increase for additional languages).
We are all connected!
I hope you can get to know your students with this "All About Me" activity and that the message of this project inspired your students and school community.
The message is clear. Each student is an individual with their own interests and talents, yet when combined with their classmates, they can create something beautiful and meaningful because we are all connected!
OTHER TESSELLATION COLLABORATION PROJECTS:
How it works…
Students will each work individually on an abstract tessellation piece of a person. 
They will personalize their piece by answering questions about themselves, like their favorite things and when their birthday is, and by adding their own decorations. 
Once their piece is finished, they will cut it out.
The final pieces will then be assembled into a tessellation mural/poster/bulletin board display with their peers. 
Since the tessellation can go on "forever," you might want to keep extra pieces around. These additional pieces would be great for...
Adding new students
Having parents create a piece at an open house
Having volunteers create a piece
Your tessellation poster can grow throughout the year.
Included in this resource:
Teaching video
Instructions
Tessellation pieces
Banner "We Are All Connected" in English, Spanish & French.
Teaching Video:
Before you start this project, you could show my tessellation teaching video to your students. In this video, I give your students a basic introduction to tessellation (so you don't have to). I also explain to your students how this project works. Then you take it from there!
Instructions:
I have provided all of the steps for this project as written instructions. These written instructions also include various options for how you could assemble and display the final project.
*Please note that instructions are in English only.
Tessellation Pieces:
I have designed an abstract tessellation piece of a person to represent the children in your class. Four designs are included—the pages have a variety of designs and ask different questions. Each piece asks "all about me" questions for the students to answer. These pages are included in English, Spanish, and French.
"We Are All Connected" Banner:
I have included a "We Are All Connected" 5-page banner to display along with your final tessellation mural. This poster is available in the resource in English, Spanish and French.
I have included two options; the first with colors red, yellow, blue, and green assigned and the second with so your students can color it however you/they want.
Please click the "Follow Me" button on this page to keep updated on all my new offerings!
Thank you for supporting my work and infusing your classroom with art!
Jenny K.
***************************************************************************
Let's Connect
***************************************************************************
Sign up HERE to join my mailing list, and I'll send you my kindness coloring sheets as a 'thank you.' I love to spoil my e-mail subscribers by sending exclusive freebies, tips, and tricks, as well as special announcements of sales–not to mention that after you join, you'll get invited to my "Subscribers Library" of freebies.
**************************************************************************
TERMS OF USE:
The purchase of this product is for one license and is for PERSONAL USE ONLY.
©Copyright 2018/2022 Art with Jenny K.® ALL RIGHTS RESERVED. Permission is granted to copy pages specifically designed for student or teacher use by original purchaser or licensee. The reproduction of any part of this product is strictly prohibited. Copying any part of this product and/or placing it on the internet in any form (even a personal/classroom website) is strictly forbidden. Doing so is a violation of the Digital Millennium Copyright Act (DMCA).
**************************************************************************
If you like my work, please help me keep the price low by purchasing additional licenses for any teacher with whom you would like to share this lesson. Extra licenses are discounted.
Photo Credit for cover image: @artwithpark
Report this resource to TPT