Weather and Erosion Unit Worksheets Reading Passages Activities Maps Tools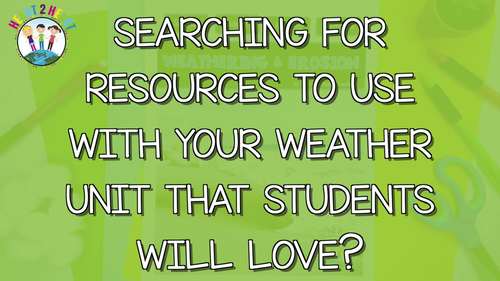 ;
Easel Activity Included
This resource includes a ready-to-use interactive activity students can complete on any device. 
Easel by TPT is free to use!
Learn more
.
Easel Assessment Included
This resource includes a self-grading quiz students can complete on any device. 
Easel by TPT is free to use!
Learn more
.
What educators are saying
This was a great resource for my 3rd graders. This made our weather unit a lot more engaging and fun :) Thank you!
Wonderful bundle of resources to use with my fourth grade science classes. There is so much to choose from, but I love the colorful graphics and the multiple ways this bundle can be used. Thank you!
Also included in
Make teaching 3rd 4th Grade Science fun with these engaging with this Science Bundle for the Entire Year. This Science for the Year MEGA Bundle includes 12 of my BEST-SELLING Science Units for upper elementary students.Science Units Included:1. Weather 2. Solar System 3. Light and Sound4. Force and

Price $90.30

Original Price $129.00

Save $38.70

Make teaching about the Weather with these engaging and hands-on activities fun! This complete unit includes information about Weathering, Erosion, Types of Clouds, Weather Maps, and Weather Instruments. Your students will love learning all about the weather with this interactive bundle with BOTH pr

Price $22.50

Original Price $32.00

Save $9.50
Description
Make teaching about the Weather with these engaging and hands-on activities fun! This complete unit includes information about Weathering, Erosion, Types of Clouds, Weather Maps, and Weather Instruments. Updated with Leveled Reading Passages with three difficulty levels, build a weather tool lab, and more hands-on activities.
Weather is an important part of our everyday lives. Knowing what the weather will be like helps us decide whether to wear shorts, carry an umbrella, or wear a warm coat and mittens each day. Meteorologists gather information about the weather using many different tools and instruments. They then forecast or predict what the weather will be like.
Weather
Weathering & Erosion
Types of Clouds
Meteorologists & Forecasting
Weather Maps
Water Cycle
Weather Vocabulary
Barometer
Wind Vane
Rain Gauge
Anemometer
Thermometer
Hygrometer
Weather Balloon
Wind Sock
Meet Daniel Gabriel Fahrenheit
Meet Anders Celsius
Vocabulary Posters - with real-life photos
Vocabulary Activities
Cause/Effect
Weather Map Activities
Weather Bulletin Board Kit
Flip Booklet
Tri-fold Brochure
Match Up Flaps
Mystery Weather Flaps
and much more!
This weather activity pack includes several Informational Articles with real photos about the weather, weathering, erosion, types of clouds, weather instruments, weather forecasting, meteorologists, weather maps, and so much more!
✔Weather Organizer with Connection Questions
✔Weather Maps with questions
✔Thermometer Activities
✔Clouds Accordion Fold Booklet
✔Weather Quiz & Reflection
⭐THIS UNIT IS PART OF A SCIENCE MEGA BUNDLE
There Are 6 Main Parts of This Weather Unit:
Introduce the Weather Unit with Benjamin & Marie, two young scientists, and future meteorologists. They are in color and black and white depending on if you want to use them for the bulletin board or for individual use.
Introduce the vocabulary words with the real-life photo posters included. You could post these posters around the classroom and have students travel around to match up and define the words in their flip flaps or use them as a center activity. In addition, the vocabulary flip flaps are a great hands-on activity that works well in their interactive notebooks. Looks great on bulletin boards too!
There are several informational articles with organizers, comprehension, and connection questions. It starts with basic weather concepts with informational articles on weathering, erosion, types of clouds, 5 weather instruments, Fahrenheit & Celsius, forecasting the weather, weather symbols & weather maps. These are great for centers, partner work, and group work!
Have students read all about the weather instruments and complete an activity or experiment. Check out the websites with directions and photos for how-to's to make homemade instruments for student experiments.
Then read about Weather Maps and forecasting the weather and Types of Clouds. Included are 5 different weather map activities for students to complete. I recommend printing the weather maps in color as some questions ask what the different colors on the map stand for. I usually print a few copies of the maps in color and place these in sheet protectors or laminate. Then you could have the students use a dry eraser marker to answer the questions, check their answers, and erase. Or copy off black and white versions for the students to write their answers and have the color one displayed on the interactive whiteboard so they can see it in color.
Additional Student Activities: Cloud Accordion Fold Booklet, Cause & Effect, compare and contrast, Create a Cloud (with cotton balls) Weather Quiz & Reflection.
✔For Elementary Grades – Third grade, Fourth grade, Fifth grade
✔Great for Core Knowledge
✔Common Core Aligned
Meets S4E4: Students will collect weather data to predict the weather.
a. Identify weather instruments - thermometer, barometer, rain gauge, wind vane, and anemometer.
b. Explain how each instrument works and is used in gathering weather data and making forecasts.
b. Analyze weather charts and maps to predict and interpret weather conditions.
Related Products
► Learning all about Weather Tools: Articles, Activities, & Flip Book
► Weather - Erosion, Clouds, Weather Maps, Weather Instruments, Weather Tools
► Weather - Erosion, Clouds, Weather Maps, Weather Instruments, Weather Tools
► Weather - Water Cycle, Clouds, Precipitation - Make a Weather Mobile!
► Weather Activities: Weathering, Clouds & Weather Tools Vocabulary Posters
CHECK OUT MY OTHER POPULAR SCIENCE UNITS:
JUST FOR YOU!! To assess the quality and see the style of my work please check out these two FREE activity packs by clicking below:
Subscribe to our NEWSLETTER to be notified of special giveaways, shop updates, and to see our products in action!
********************************************************************
***Please know that I spend a lot of time researching, creating, writing, and proofreading my work but even after several revisions there may still be a typo or grammatical error. Please let me know if you find a typo or feel that a correction is needed. Just click on the Ask a Question section or email me at heart2heartteaching@gmail.com versus leaving negative feedback so I can fix it as soon as possible. I value your input to make my products the highest quality possible. Thank you in advance for your help and support!
Copyright © Heart 2 Heart Teaching LLC. All rights reserved. This file is intended for classroom and personal use only. Any redistribution or reproduction of part or all of the contents in any form is prohibited other than the following:
**You may print for personal, classroom, and non-commercial use only.
**Clipart, graphics, and photographs, found inside this product are copyrighted. They may not be extracted from this file without written permission from the original artist(s).
Report this resource to TPT
Standards
to see state-specific standards (only available in the US).
Determine the main idea of a text; recount the key details and explain how they support the main idea.
Describe the relationship between a series of historical events, scientific ideas or concepts, or steps in technical procedures in a text, using language that pertains to time, sequence, and cause/effect.
Determine the meaning of general academic and domain-specific words and phrases in a text relevant to a grade 3 topic or subject area.
Use information gained from illustrations (e.g., maps, photographs) and the words in a text to demonstrate understanding of the text (e.g., where, when, why, and how key events occur).
Determine the main idea of a text and explain how it is supported by key details; summarize the text.