Westward Expansion Unit | 5th Grade - 8th Grade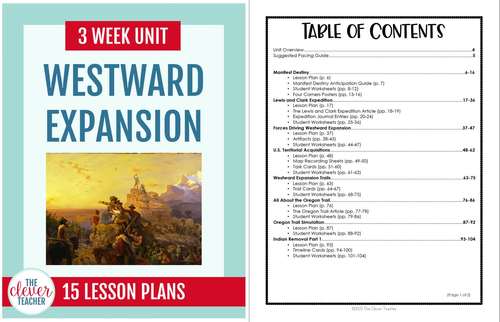 ;
Zip

Google Apps™
Includes Google Apps™
The Teacher-Author indicated this resource includes assets from Google Workspace (e.g. docs, slides, etc.).
What educators are saying
Used alongside our textbook to provide engaging activities and further study. Even those that thought history was boring were tuned in.
This was an amazing way to teach and engage students in this social studies standard. It was easy to use and easy to understand what I needed to print, do, and have students do.
Description
This Westward Expansion unit covers the causes, events, and effects of American Westward Expansion.
I've made these Westward activities as easy as possible for busy teachers to implement. From thorough lesson plans to answer keys – it's all there. This history unit will prepare you to teach about complex topics like Manifest Destiny, the Indian Removal Act, the expansion of slavery, the Mexican-American War, the California gold rush, and more. 
Even better, I've made it fun!  The 15 Westwawrd lessons are filled with engaging activities. Your students will especially love the Oregon Trail simulation and the California Gold Rush game.
--------------------------------
Table of Contents
Week 1
Manifest Destiny— define Westward Expansion & Manifest Destiny and evaluate beliefs about America's mission in the world (PowerPoint presentation, student note worksheets, 4 corners posters)
Lewis and Clark Expedition—analyze journals from the Lewis and Clark Expedition (informative article, excerpts from Lewis and Clark journals, student analysis worksheets)
Forces Driving Westward Expansion—use primary and secondary sources to discover which forces drove Westward Expansion (artifact cards, student recording sheets)
U.S. Territorial Acquisitions—map and compare U.S. territorial acquisitions from 1783 to 1853 (blank map, acquisitions task cards, student reflection page)
Westward Expansion Trails—map and analyze Westward Expansion overland trails (blank map, trail task cards, student reflection pages)
Week 2
All About the Oregon Trail—explain what life was like for emigrants on the Oregon Trail and prepare for an Oregon Trail simulation (informative article, student worksheets)
Oregon Trail Simulation—participate in a simulation about the Oregon Trail and explain the challenges faced by emigrants on the Oregon Trail (PowerPoint presentation, student worksheets, reflection)
Indian Removal Part 1—sequence and analyze events relating to the forced migration of Indigenous Peoples by the U.S. government (timeline cards, reflection page)
Indian Removal Part 2—analyze four Indigenous people's quotes about the Removal era and discuss what I've learned (informative article, quote prompts, recording sheet)
Texas Revolution—explain the main events of the Texas Revolution and participate in a readers theatre about the Battle of Gonzales (informative article, readers theater)
Week 3
Mexican-American War—describe the causes and effects of the Mexican-American War and explain various perspectives on the war (informative article, cause & effect sorting cards, student worksheets)
California Gold Rush—answer questions about the California Gold Rush (anticipation guide, task cards, student booklet)
California Gold Rush Game—play a California Gold Rush game acting as a prospector or merchant (game preparation worksheet, gameboard and game elements)
Westward Expansion and Slavery—explain how Westward Expansion led to the growth of slavery in the United States and explain how three compromises (The Missouri Compromise, The Compromise of 1850, and the Kansas-Nebraska Act) inflamed sectional rivalries in the United States (PowerPoint presentation, student note worksheets, reflection page)
Westward Expansion Effects—explain how Westward Expansion resulted in opportunities for some and losses for others (group cards, student worksheets, journal prompt)
Help For The Teacher
Table of contents (also available in the preview)
Suggested pacing guide
15 lesson plans
Answer Keys (Of course!)
Editable end-of-unit test and study guide
Easy printing file with all student worksheets and articles
--------------------------------
This unit also includes DIGITAL ACCESS via Google Slides.*
I have created a Google Slides resource for each lesson. Each resource contains student instructions, student worksheets with editable text boxes, and articles/task cards if applicable.
Teachers can assign Google Slides via Google Classroom.
--------------------------------
Why I created this unit
1. I want your students to love learning about U.S. history!
2. I believe that teachers deserve excellent social studies resources (Can someone please tell our school districts?)
3. Planning complete units is tedious and time-consuming. I want to save teachers time so they can focus on doing what they love—teaching!
--------------------------------
What people are saying about this unit:
"I was very impressed with the content in this unit! A great deal of information was covered in a concise and engaging way. My students especially enjoyed the simulation of the Oregon Trail and the Reader's Theater. Even the class that is normally hard to engage got in the spirit and enjoyed learning history. It was a complete win!"
—Megan B. 
"She is an amazing author! Worth every penny and exactly what I was looking for. I am going on maternity leave and literally EVERYTHING you need is there :) Made planning so much easier." —The Obsessed Montana Teacher
"I used both the digital and print versions of this resource as I teach both online and in person right now. I am never disappointed with your units. They are comprehensive, engaging, and perfect for learning about history." —Lisa P. 
--------------------------------
How can this unit be for grades 5th-8th?
The articles are written at a 7th-8th grade reading level. If you teach one of those grades, your students will be able to complete the activities more or less independently. If you teach 5th or 6th grade, I recommend reading and analyzing the articles with your students. They will do great! Check out the reviews to see how teachers at your grade level have successfully used and loved this unit.
Where can I find more history units?
I have already created units for the following topics:
--------------------------------
Customer Tips:
For samples of what is included, download the preview file. I would love to answer any and all questions about this product. Ask a question by clicking on "Product Q & A"
All of my products are digital and non-refundable. This is a digital file. A physical product will not be shipped. Please make sure you have a way to open: a zip file, PDFs, PowerPoint presentations, and a word document before purchasing.
This product is not editable. The only part of the unit that is editable is the end-of-unit study guide and test. The other elements (like lesson plans, student worksheets, PowerPoint presentations, Google Slides, etc.) are not. The PDFs are password protected. This protects my work as well as the work of graphic and font artists I've purchased from. 
Teaching Duration
3 Weeks
Report this resource to TPT