What is the Ozone Layer? Environmental Science Worksheet (Google, PDF, Print)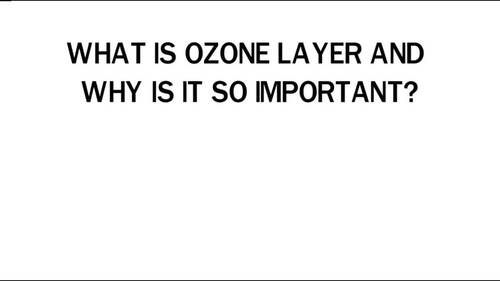 ;
Zip

Google Apps™

Internet Activities
Includes Google Apps™
The Teacher-Author indicated this resource includes assets from Google Workspace (e.g. docs, slides, etc.).
What educators are saying
Great resource and saved me so much time. Used it for my highschool SPED classroom and it made differentation super easy.
Also included in
A bundle of climate change earth science worksheets to support your environmental science unit! Ready-made worksheets to help students understand why climate is important. ❤️Follow My StoreIF THIS LESSON DOESN'T FIT FOR YOU. PLEASE THINK OF US FOR ANOTHER LESSON SOMETIME. Format:This bundle comes in

Price $60.00

Original Price $75.00

Save $15.00
Description
Environmental science worksheet to help students answer the climate change question "What is the ozone layer."
What is the ozone layer made of?
The ozone molecule constitutes three oxygen atoms and is fairly unstable. It only makes up a small fraction of the upper atmosphere, but it still protects all biological processes on earth.

The presence of this layer is what enables organisms to thrive on the surface of the earth. Without it, life on earth would be unbearable
❤️Follow My Store
Click on the green star next to the store logo to receive new product updates.
Students will consider:
How is the ozone formed?
When was the ozone layer formed?
Which layer of the atmosphere contains the ozone layer?
Importance of the ozone layer
Can the ozone layer be destroyed?
What destroys the ozone layer?
What caused the hole in the ozone layer?
How to protect the ozone layer?
This worksheet comes in multiple formats so you can use it in any teaching situation!
- Google Slides for Google Classroom
- Digital-PDF for electronic sharing or easy printing
- Article link (or video) is embedded into the guide for quick access
- Answer key provided
The research needed to answer the questions is in multiple formats to best suit your learners. There is a visually supported reading article or a YouTube video for audio-visual learners.
⏳ Teaching Time
About 30 minutes
✰ Freebies
Aquaponics the Key to a Sustainable Future of Fish Farming
⭐ How to Get TPT Credit for Future Purchases⭐
Go to your "My Purchases" page. Next to each purchase, you'll see a "Provide Feedback" button, click it and you will be taken to a page where you can give a quick rating and leave a short comment for the product. Each time you give feedback, TPT gives you feedback credits you can use to lower the cost of your future purchases. I'd be grateful if you'd leave feedback :)
Teaching Duration
30 minutes
Report this resource to TPT