When I feel angry: Identifying, managing feelings and emotions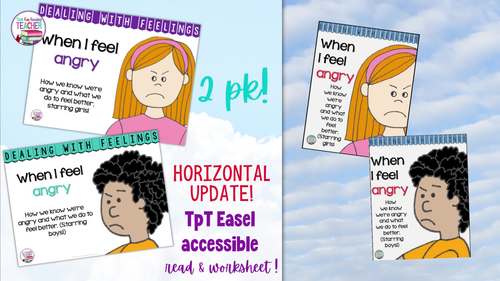 ;
Easel Activities Included
Some resources in this bundle include ready-to-use interactive activities that students can complete on any device. 
Easel by TPT is free to use!
Learn more
.
Products in this Bundle (2)
Also included in
Nurture positive emotional well-being with the 1st seven titles in the Dealing-With-Feelings series! Teach your students to identify, accept and manage emotions in a positive way through relatable characters! Communicating about feelings is an important part of Social Emotional Learning, but is chal

Price $20.00

Original Price $24.25

Save $4.25

Social emotional learning: Teaching students about recognizing, accepting and managing feelings emotions? Gently introduce lessons about feelings through relatable, no-prep stories, and reinforce positive options for managing emotions with visuals, fun follow up activities and games for a range of e

Price $38.25

Original Price $61.25

Save $23.00
Description
In the years I spent teaching young students who were often angry when I arrived on scene, I found that the offer to read them a story was welcomed and presented a calm transition into a conversation about the earlier altercation. It was easier for these little people to talk about incidents or characters in a story, let the 'relate' factor move into their own situation naturally, then to have to deal with the chaos they had just left behind.
When I Feel Angry is a that teaches kids how to recognize, express & manage emotions. Use digitally through TpTEasel, or print color or black and white versions!
Each book includes a color and black and white version, one starring boys, another girls. Ideal resources for teaching kindergarten and primary students about feelings!
Two versions of these stories are now included in each resource. The newest, horizontal version can still be printed, but can also be accessed through as an eBook story with one worksheet for follow-up (two spaces to draw, two text answer boxes). Tip: If you haven't yet registered your students on TpT Easel, simply open the story on a tablet and share with an online class as you would a picture book, or on your big screen in the classroom!
The Dealing-With-Feelings stories have been created to be more general than Social Stories and can be used by parents and educators to educate young children to recognize their feelings as normal and have strategies to try to manage the 'trickier' ones.
Also available in:
The #DWF EVERYTHING Bundle! (BEST DEAL! All future DWF products will be added to this bundle) (Want to upgrade to the everything bundle? Simply purchase it, then contact TpT to request a refund for previous purchases of products contained within it!)
Sample Dealing-With-Feelings free!
❤️ Dealing With many kinds of Feelings: FREE SAMPLE
❤️ When I Feel Lonely (TpT Easel compatible)
❤️ SEL activity: Feelings word and picture match (TpT Easel compatible)
Please click through on the links above for more detail, and to read the feedback that teachers have left after using the individual resources in this bundle!
Thank you in advance, to those of you who generously take the time to leave feedback here. (And give yourself a little pat on the back, too - you will have just topped up your TpT credit balance!
☆NEW!☆
☆Best-sellers☆
Related:
Let's connect!
Thank you for visiting my store! Please direct any questions you may have on the Q and A page of my store (by clicking my name at the top right), or email me at ThatFunReadingTeacher@gmail.com.
Pop by for a visit on:
my blog - That Fun Reading Teacher.com
Twitter and
How to get TPT credit to use on future purchases:
• Log in and go to your My Purchases page. Click the Provide Feedback button, where you will be linked to the page to leave a rating and short comment for the product.
Be the first to know about my new products, discounts and freebies:
• Look for the green star near the top of any page within my store and click it to become a follower. You will then receive email updates about ThatFunReadingTeacher on TpT!
feelings and emotions | teaching about feelings | teaching about emotions | Special Education | Social Stories | Speech Therapy | Social Skills | Life Skills | feelings lessons | emotions lessons | anger | school counseling | feelings resources | children's books about feelings | When I Feel Angry | Distance Learning
Report this resource to TPT