When Is It? Adapted Book for Children with Autism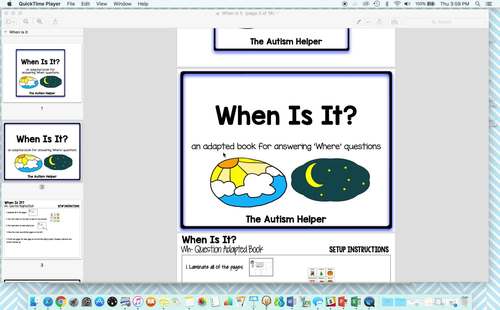 ;
What educators are saying
i loved using this during our reading time. it is an easy prep resource and my students loved it. thank you for creating and sharing!
This is the perfect resource for working on "when" concepts. It was easy for my student to follow along with, and he was able to master the skill in no time.
Description
This adapted book is great to work on the 'when' question. This book works on the essential skills of making inferences, vocabulary, and question answering. Each page follows a similar routine and is interactive. This book has 11 pages each with a hint for a different when question. Students put velcro picture of the correct response on each of the pages! There are 2 or 3 picture options on each page - so it's like a mini multiple choice! Instructions of set up and all picture pieces are included!
Question answering is difficult for children with autism.
This book isolates the 'when' question and has worked well for skill building for my students.
Check out the entire resource:
When Is It? Adapted Book Video Product Preview
If you like this product, be sure to check out these:
When Is It? Adapted Book
Where Should You Go? Adapted Book
Who, What, Where, & When - Mix Up! Adapted Book
for more resources, tips, and materials to help you help children with autism please visit
The Autism Helper
Report this resource to TPT