Where the Red Fern Grows Novel Study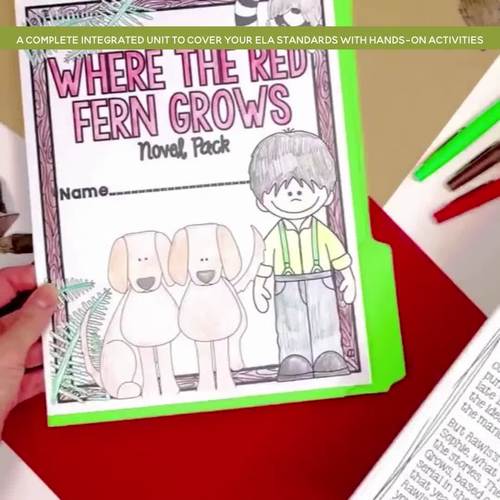 ;
What educators are saying
My students enjoyed using these resources. With the text being above their reading level, these resources helped provide review to create meaning learning experiences.
These are my favorite novel units! They are always so well planned and my student's love them! These are great for introducing new skills or reteaching skills at the end of the year.
Description
A no-prep novel study for by Wilson Rawls! Ignite a passion for reading in girls and boys in your classroom with this comprehensive novel study pack! Filled with 200 pages of hands-on activities that your students will enjoy!
*****************************************************************************
WHAT'S INCLUDED IN THIS PACK?
This 200 page unit is a complete and engaging study of the book, broken into 5 parts for an easy 5 week lesson plan. It correlates with the CCSS standards for grades 3rd to 6th.
Each section includes:
Chapter vocabulary
Chapter comprehension questions
Standard aligned activities for all Reading Literature standards
Reading Informational standard connections
Hands-on projects
Weekly assessments
and much much more!
You and your students will dive into this book with these no-prep activities, and use these higher-level comprehension resources to challenge even the most reluctant readers!
I have made working through this novel smooth and fun for you and your students! Typically this novel takes around 5 weeks to get through, and I have included everything you need and more. You can pick and choose what works for you and your students, and create a lasting unit that your students will always remember!
Download the preview to see a sample of what is included!
*****************************************************************************
MORE NOVEL STUDIES?
Harry Potter and the Sorcerer's Stone Novel Study
The Miraculous Journey of Edward Tulane Novel Study
*****************************************************************************
As always, please let me know if you have any questions or I can help you in any way! Enjoy watching your readers grow and learn as you work through this classic and amazing literature! :)
Amelia
Answer Key
Included with rubric
Teaching Duration
1 month
Report this resource to TPT