Which Bill of Rights? ~ Bill of Rights Task Card Activity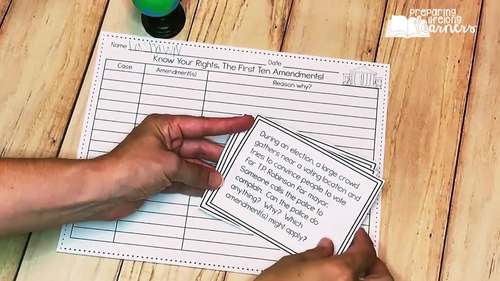 ;
What educators are saying
I asked my students which activity they found most engaging this first semester of distance learning, and this assignment came up as the top choice. Thank you!
This is great!!! It was a great way for them to see how the amendments protect citizens. Thank you for making this.
Description
Which Bill of Rights? A Task Card Activity for students to interact with the Bill of Rights!
These 16 Task Cards have different scenarios that involve the original Amendments; The Bill of Rights!
Students interact with The Bill of Rights by reading the scenarios and then deciding which amendment(s) is involved.
Included are:
•Directions for using
•The Bill of Rights
•16 Scenario Cards
•A recording sheet
*Answer key included*
Check out the preview to see if this activity is perfect for your classroom!
Also, check out my other Secondary Social Studies Products!
Report this resource to TPT