Whole Number Division Fifth Grade Guided Math - Lessons & Small Groups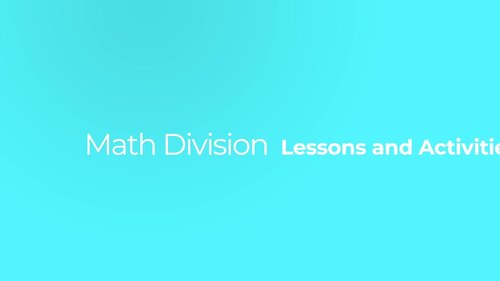 ;
Also included in
Do you feel like you are struggling with your instruction during your math block? Maybe you need small group materials or math curriculum but you don't have the time to prep them. This Guided Math BUNDLE Unit allows you to support your students without all the planning and prepping.The 5 Guided Math

Price $119.00

Original Price $149.00

Save $30.00

Do you feel like you are struggling teaching Whole Number Division during your math block? Maybe you need small group materials or math curriculum but you don't have the time to prep them. This Guided Math Whole Number Division Unit allows you to support your students without all the planning and pr

Price $22.00

Original Price $28.00

Save $6.00
Description
Do you feel like you are struggling teaching Whole Number Division during your math block? Maybe you need small group materials or math curriculum but you don't have the time to prep them. This Guided Math Whole Number Division Unit allows you to support your students without all the planning and prepping.
The 11 Guided Math Lessons Include:Each lesson contains:
Mini-Lesson
A small group activity for each lesson

Remediation ideas
On-level ideas
Above level ideas

2 pages for classwork
an exit slip
2 pages for homework

Math Notes [Paper & Digital Option]
End of the Unit Assessment
The Lessons
Place Value & Patterns
Relate Multiplication to Division
Use the Distributive Property
Divide by 1-digit divisors
Model Division with 2-digit divisors
Estimate with 2-digit divisors
Partial Quotients
Divide by 2-digit divisors
Connect Division Models & Strategies
Interpret the remainder
Multiplication & division word problems
_____________________________________
Teachers like you said:
⭐️⭐️⭐️⭐️⭐️ Absolutely love these units! They literally are my bread and butter with my guided math groups!
⭐️⭐️⭐️⭐️⭐️This is a great resource! I highly recommend it!
⭐️⭐️⭐️⭐️⭐️Good, solid, easy-to-use resource. Love that there are two pages of classwork and homework to choose from. Highly recommend this product!!!
_____________________________________
You may also like...
Fifth Grade Guided Math Bundle
5th Grade- Guided Math Notes Bundle [Paper & Digital]
_____________________________________
Copyright © A Teacher's Wonderland, LLC.
All rights reserved by author.
Permission to copy for single classroom use only.
Please purchase additional licenses if you intend to share this product.
Report this resource to TPT
Standards
to see state-specific standards (only available in the US).
Recognize that in a multi-digit number, a digit in one place represents 10 times as much as it represents in the place to its right and 1/10 of what it represents in the place to its left.
Explain patterns in the number of zeros of the product when multiplying a number by powers of 10, and explain patterns in the placement of the decimal point when a decimal is multiplied or divided by a power of 10. Use whole-number exponents to denote powers of 10.
Fluently multiply multi-digit whole numbers using the standard algorithm.
Find whole-number quotients of whole numbers with up to four-digit dividends and two-digit divisors, using strategies based on place value, the properties of operations, and/or the relationship between multiplication and division. Illustrate and explain the calculation by using equations, rectangular arrays, and/or area models.
Add, subtract, multiply, and divide decimals to hundredths, using concrete models or drawings and strategies based on place value, properties of operations, and/or the relationship between addition and subtraction; relate the strategy to a written method and explain the reasoning used.