Why History Matters Bulletin Board & Bonus Stations Activity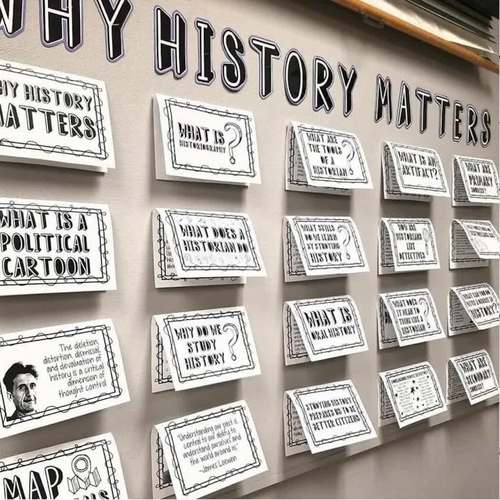 ;
What educators are saying
This resource was absolutely fantastic! I wish that I had downloaded it sooner - students were engaged and can use the interactive bulletin board for refreshers.
I printed these out for my husband and we both liked the fact that it was an interactive bulletin board. We also liked how you included stations to do in order for the students to continue reviewing.
Also included in
New teachers! This "Back to School" bundle includes everything you need to get you through the first week of school and years to come! I've included my most popular bulletin boards, activities, syllabus templates, "Meet the Teacher" forms, and my best-selling TED Talk lesson in this bundle! This bun

Price $15.79

Original Price $31.03

Save $15.24

This Mega Bundle includes ALL of my best-selling Social Studies Bulletin Boards!"Be an Upstander" Interactive Bulletin BoardThis resource is appropriate for middle and high school students. 30 cards are included in this resource including terminology (stereotypes, prejudice, discrimination, bystande

Price $18.99

Original Price $35.66

Save $16.67

Social Studies Back to School Custom Bundle

Price $19.39

Original Price $38.76

Save $19.37
Description
This resource includes 25 interactive cards to be used in a bulletin board display focusing on "Why History Matters." Topics included are: Why history matters? What skills do we learn when we study history? What does it mean to think like a historian? How are historians like detectives? What is historiography? What is a primary source? What is a secondary source? What is oral history? What is historical inquiry? And more!
A title, "Why History Matters" is included.
This resource also includes two visually appealing notes pages that may be used in conjunction with the bulletin board or may be used alone. Topics included are: Why study history? Tools of a historian. Thinking like a historian, and more! QR Codes are included.
NOTE: An answer key is NOT included with the notes pages. Answers will vary on both notes pages depending on the student and depending on how the notes pages are used. The notes pages are included in this resource as a BONUS. Feel free to use them or discard them if you wish.
A bonus "Why History Matters" stations activity is also included in this resource. This activity includes 5 stations (primary and secondary source sorting activity, quote analysis activity, and more!
Bulletin board templates and station card templates are included if you choose to add your own bulletin board cards and/or stations.
Teaching Duration
Lifelong tool
Report this resource to TPT
Standards
to see state-specific standards (only available in the US).
Determine the meaning of words and phrases as they are used in a text, including vocabulary specific to domains related to history/social studies.