Winter Drawing Guide | How to Draw Kids Playing in the Snow and more!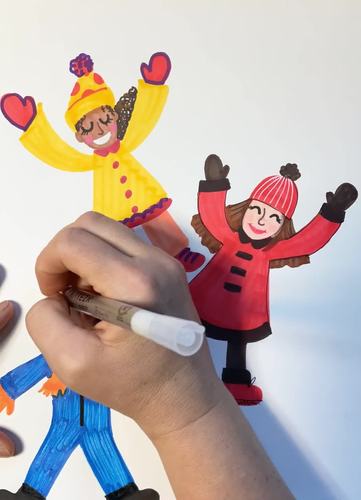 ;
What educators are saying
Used in my early finisher area. The kids loved it! Plan I using it with a sub plan I'm leaving this week! Thank you!
Also included in
Meet your all-in-one-spot for the best drawing guides for kids! These "How to Draw" drawing guides are the perfect way to help your little artists build confidence, increase hand eye coordination and improve basic drawing skills, and provide fun and relaxation for your students. With these drawing

Price $84.60

Original Price $94.00

Save $9.40

If your students are like mine, they LOVE drawing guide and having the autonomy to draw a picture themselves but find comfort in the guidance of directed drawing to help build their skillset as well as their confidence in art. In this drawing guide bundle, you will find all things WINTER. This Drawi

Price $13.95

Original Price $15.50

Save $1.55
Description
Winter is here and it's a time for SNOW much fun for kids and adults! In this drawing guide for artists of all ages, you will learn how to draw kids experiencing the pure joy that is playing in the snow! This Winter Wonderland drawing guide lends itself to art projects, early finishers, drawing prompts, and more!
In this guide you will find 50+ Winter activities & items divided into categories such as: Fun in the Snow, Winter Trees, Warm + Cozy, and Celebrations
INSIDE THIS GUIDE YOU WILL LEARN HOW TO DRAW :
kids/ people doing snow angels
sled riding
sledding on a saucer
snow tubing
ice skating
skiing
building a snowman
snow forts
snow flakes
snowman
variety of pine trees
Christmas tree
hot chocolate
warm sweaters/ sweatshirts
winter hats
mittens
snow boots
slippers
yarn
scarves
fireplace
cozy socks
stockings
ginger bread house
presents
menorah
dreidel
Diya lamp
Kinara
party hats
party supplies
disco ball
Chinese New Year lanterns
Chinese New Year dragon
_______________________________________________________________
Here is what some buyers have said about this resource:
* * * * * Extremely satisfied
If Mrs. E makes it, chances are I'm going to purchase it immediately. She always puts so much thought into drawing guides + lessons. These are great for students (and teachers) of all ages. I used this weekend with my 4 year old, and my 4th graders have loved using these in their sketchbooks for a warm up this morning. Can't wait to give the winter animals guide a try too! - Audrey P.
* * * * * Extremely satisfied
I don't teach art, but I love this seller and her work! I bought this drawing guide just for joy, but the following day my students were asked to make cards for nursing home patients. This guide worked great! Thank you!- Shannon H.
* * * * * Extremely satisfied
My students and I absolutely loved this!! Great for the last few days before Winter Break! - Alexis K.
Terms & Use:
Please note, in purchasing this resource, you agree that the contents are the property of Kaitlyn Edington and licensed to you only for classroom/personal use. I, Kaitlyn Edington retain the copyright, and reserve all rights to this product.
This lesson may not be claimed as your own or resold as your own.
______
Don't forget about the green ★ to follow my store to get notifications of new resources and freebies!
Like drawing guides? Feel free to check out my Drawing Guide (GROWING!) Bundle!
Here are a couple of my favorites:
For more complete art lessons, check out my Northern Lights Winter Landscapes Lesson, Scarf Selfie Art Lesson , and my Monster in the Closet Art Lesson
Be sure to check out my Elements of Art & Principles of Design bundle!
For more inspiration and info on new products, be sure to click the follow me on Instagram at @artwithmrs.e
keywords- winter, Christmas, seasons, snow, snowflakes, play, art lesson, art education, art teaching, how-to-draw
Report this resource to TPT